BHS Athlete Is A Slam Dunk
Devoted to playing basketball, junior Olivia Gourdine has been participating in the sport since the sixth grade. She has exhibited continuous commitment, as Gourdine said she "dedicated and put so much time and effort into improving myself as a player and teammate." Because basketball is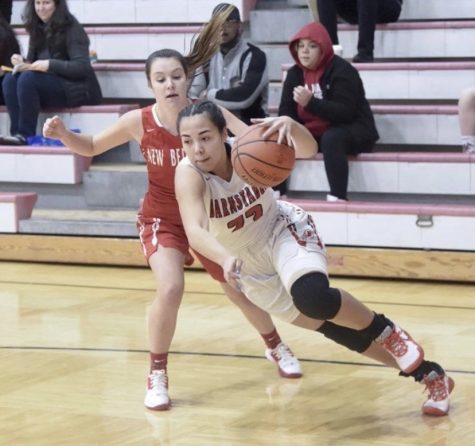 only sport, she has found a successful balance between her athletic and academic careers. 
Gourdine, a forward on the court, has channeled all of her energy into her designated sport, contributing to several athletic accolades. During sophomore year alone, Gourdine received numerous recognitions. Gourdine's first award was in Summer 2019 when she played on HYCC's basketball summer league team. Thanks to her gameplay, she was named MVP of the team, which was just the beginning of her awards. She was then named Cape and Islands High School All Star, The Boston Globe's Player of the Week, and Boston Herald's Pre-Season Player to Watch.
Gourdine said she has been in the gym "all her life," watching her older cousins play basketball when she was younger. She credits her father for her interest in basketball, as they would spend hours practicing. With her father's guidance, Gourdine was able to work on her skills, developing a passion for the sport. However, it was not until sixth grade that she fully realized she was destined for basketball. 
"I was in sixth grade when I made the game winning layup on my travel team. That moment made me really proud and I instantly knew that I wanted to continue playing," Gourdine said.
Gourdine's favorite part of basketball is the sport's high intensity. She thanks her current teammates and coach Ross Jatkola for her recent success. According to Gourdine, Jatkola strives for a fast-paced atmosphere, making her "feel amazing."
Jatkola serves as the head football coach and head girls basketball coach at BHS. This may only be his third year coaching at BHS, but he has been coaching football and basketball for 14 years. He has been coaching Gourdine for three basketball seasons. 
On a personal level, Jatkhola  has known Gourdine for approximately 10 years, saying she is one of the nicest athletes he has ever coached. According to Jatkola, Gourdine possesses multiple qualities that shape a special "high school student, athlete, and human being." He feels Gourdine is respectful, humble, and has great leadership skills.
Jatkola added that Gourdine has a great ability to score  and her greatest asset is her passion for the game. Jatkola acknowledges how hard Gourdine works on and off the court, putting in countless hours to improve her overall game. Due to consistent practice and effort, Gourdine "can score from the inside and knock down outside shots." The fact that Gourdine is so well rounded makes it hard for opponents to defend her, making her a force to be reckoned with. 
According to Jatkola, Gourdine's personality and athletic and academic abilities makes her a solid recruit for any college. In fact, pursuing basketball in college has been one of Gourdine's biggest goals ever since she started playing. 
"I have always wanted to play at the highest level possible. I am getting closer and closer to achieving that goal everyday. I wouldn't be where I am without my team," Gourdine said.
This year, Gourdine and her teammates are currently practicing four times a week for 90 minutes each practice. When the girls basketball team begins playing games, practice will be held on Monday and Thursday and games will be played on Tuesday and Friday. Stay tuned for when the BHS girls basketball team starts playing games in order to see Gourdine in action.