Top 10 Movies of 2022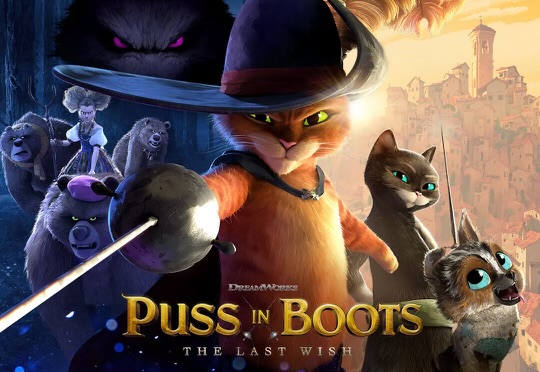 This year has without a doubt been a powerful bounce back to the movie industry as people start heading to the theaters again since the slow pull away of COVID-19. As an avid movie watcher, and theater employee, here are 10 of my favorites from 2022.
1."Avatar: The Way of Water" – Directed by James Cameron
"Avatar: The Way of Water" is an outstanding cinematic masterpiece with a two billion dollar budget. It is a great way to close out 2022. I saw it in 2D first. I even watched it a second time in the director's suggested 3D format. It was truly the best way to watch, as the 3D was focused specifically on the characters and effects like water splashing at your face. It was not too much, but rather the perfect balance. Although the movie was three hours long, I was hooked the entire time both times that I watched it. I suggest trying to catch it in 3D before it leaves theaters; this is by far my favorite movie of the year, it takes you on a beautiful journey and is worth the time.
2."Top Gun: Maverick" – Directed by Joseph Kosinski 
Number two on my list is Top Gun: Maverick. This very long awaited sequel follows Maverick (Tom Cruise) as he navigates teaching a class of Top Gun aviators. The actors playing the pilots actually were in the planes, although they had an aviator piloting them. This made for very realistic flying scenes as the actors had to  learn how to manage their bodies when being crushed by pressure and adapt to planes as if they were real naval aviators. I watched it four times at the movies and bought it on digital. I recommend this movie to anyone who has seen the first one or finds naval aviation even a tad interesting.
3."Puss in Boots: The Last Wish" – Directed by Joel Crawford
This movie is the best kind of surprise. When watching a kids movie as a teenager or adult you hardly ever have high expectations, but Puss in Boots: The Last Wish squashes any other animated movie this year, by far. The art style is very beautiful and the story is so well thought out and effective. If you don't see it in theaters at least see it at home; it's a must watch.
4."The Batman" – Directed by Matt Reeves
Earlier this year I had the privilege of watching The Batman in theaters. Another three-hour movie, but it's worth the watch. This movie brings out the very dark side of Batman, and the cinematography is unmatched. It's eerie, uninviting and uncomfortable, but that's what makes it so interesting. Batman isn't that likable, and neither are the villains, but somehow it all comes together well. It is on HBOMax, if you have it. The Batman is the perfect watch for a rainy day.
5."Smile" – Directed by Parker Finn
This horror movie does, at face value, appear very cheesy, but it is another rare gem of suspense and fright. It had me so scared in the movie theater that I screamed out loud twice. The plot was unique and it was something fresh, something new. When October comes around it is definitely a good one to add to your scary movies list.
6."Devotion" – Directed by J.D Dillard
Devotion was a pleasant surprise. I hadn't known it was based on a true story, or even what it was about until arriving at the theater, and it had me in tears by the end. It follows the story of Jesse Brown, a naval aviator born in 1926. It follows his struggles with being black one hundred years ago in the United States, and how it affected his trust in his fellow aviators.
7."Violent Night" – Directed by Tommy Wirkola
Never would I have expected David Harbour to star as Santa Claus, let alone Santa Claus to be wielding a hammer as a weapon. Harbour, whom you may know from the Netflix show Stranger Things, literally kills it as this unique version of Santa Claus. If during the holidays you are bored of the same old movies and want something exciting and funny, Violent Night is the movie for you.
8."Black Panther: Wakanda Forever" – Directed by Ryan Cooger
The first Black Panther is one of my favorite superhero movies. Chadwick Boseman did an amazing job in the portrayal of T'challa/The Black Panther, and sadly he has since passed. Wakanda Forever did a beautiful job of being a tribute to Boseman. However, despite being categorized as a superhero movie, the next Black Panther only arose in the last hour of the three-hour movie. If there was a little more action like that of the first movie, it would have been higher on this list.
9."Thor: Love and Thunder" – Directed by Taika Waititi
Contrary to most opinions, I actually really enjoyed this movie. I think Thor is such a lovable character, and the soundtrack was 10/10. Although not nearly as great as its predecessors, I did enjoy this Thor movie well enough for it to make it on this list.
10."Where the Crawdads Sing "- Directed by Olivia Newman
This movie is based on a bestselling book written by Delia Owens. It follows the story of Kya Clark, and her interesting and sometimes sad life as she battles with being charged with murder. I highly recommend this movie if you are a fan of stories that focus on one character's development. It, much like Devotion, left me in tears.