Taylor Swift's New Album Leaves Fans Up Till Midnight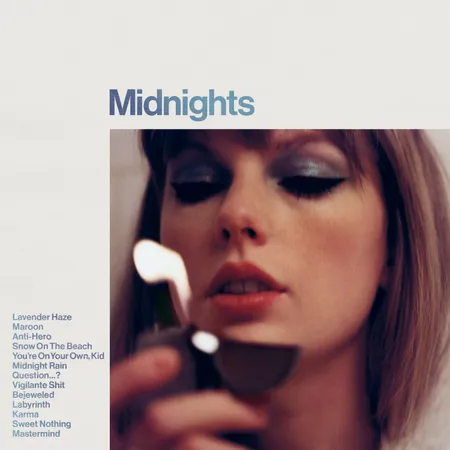 What happens at midnight stays at midnight, but not for Taylor Swift. Swifties waited patiently at midnight of October 21, 2022 for Swift's brand new album to drop named "Midnights." Although she had released her re-recorded albums, this is her first fully original album since 2020. In the first three days of release, the album sold 1.2 million units, making it the first album in over 5 years to move a million units in a week. "Midnights" is a journey through Swift's career, these songs capture what Swift stays up late at night thinking about, her dreams and her nightmares. 
With 13 songs on the original album, and an additional 7 songs in "Midnight's 3am edition," Swift collaborated with Jack Antonoff, singer, record producer, and songwriter to write the album. Swift also collaborated with Lana Del Rey, singer and songwriter, for "Snow on the Beach," although many fans wish Del Rey had a longer part in the song instead of just the backup vocals. 
Along with this, fans are also in disagreements on feelings towards the album. Many feel as though "Midnights" is lacking compared to her other albums, and describe it as a let down. For me, I agree it is not her best album, but it is a delicate and well thought out album that looks back on her earlier career. It reflects on her more naive albums of love songs and fairytale endings, to say that the love stories aren't always as simple as they seem, and not all fairytales end with a man. 
The song "Sweet Nothings," ushers in the idea that finding her perfect boyfriend/husband didn't bring in the happiness she thought it would. "You're on your own kid," one of my personal favorites, adds on to this concept as she sings, "I hosted parties and starved my body like I'd be saved by a perfect kiss." At the end of the song she has the epiphany that it is actually ok to be on your own. 
The song that has gained the most attention in the album is "Anti-Hero," a song where Swift announces herself as "the problem" that the media has put her out to be her whole career. She is able to use comedic self-depreciation that displays a deeper meaning effectively, which artists have failed to do well until now. 
Overall, Swift's album, although a different approach then previous albums, is a creative masterpiece with songs ranging from R&B, pop, and synth genres. A Swift concert tour on the way, so if you enjoyed this album keep your eyes peeled for news of live shows.