Parking Spot Painting is a Hit
As one pulls into the Barnstable High School one will notice that there are some scattered spots here and there that have been painted on. The painted spaces vary from Wordle themed, to anime, to tributes to loved ones .This is a result of a fundraiser that the senior class  put together. This was open to seniors and teachers only and that took place on Sept. 24.
At the beginning of the school year it was announced that seniors would be allowed to buy parking spots and paint them. A good amount of the senior class did decide to buy and paint a parking space. Students have done paintings as simple as their initial to something that is special to them on a personal level. Senior Ava Rolfe painted specifically a 1973 Chevy Blazer on her spot as her family owns one. Rolfe said it was an expensive project. She bought three gallons and a quart of paint to complete her parking space and got help from her sister. 
It was a messy process, " I got paint all over my clothes," said Rolfe.  
The idea for this fundraiser actually came from a TikTok.  It was a hit with the senior class and teachers, who were also allowed to buy spots. About 70 seniors painted spots and 65 teachers.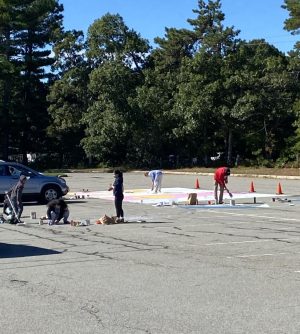 "At the end of the day this was a successful fundraiser," said senior class President, Ryan Christensen. 
At the beginning of this process there was a challenge with getting permission. With this being the first time a class has done this administration and facilities were cautious about the idea at first. Christensen said that with some emails, meetings, and phone calls the deans and principal were on board.
"Subtracting off the cost of food, drinks, etc the class generated $5,000 in revenue," said Christensen.
Senior Gia Johnson painted the solar system in a vertical line on her spot. Johnson also added in her and her girlfriend's hand prints on the spot as well.  Johnson said in the moment of painting it wasn't fun but looking back it was a good experience. She also didn't spend a lot of money since friends lent her paint and getting free samples.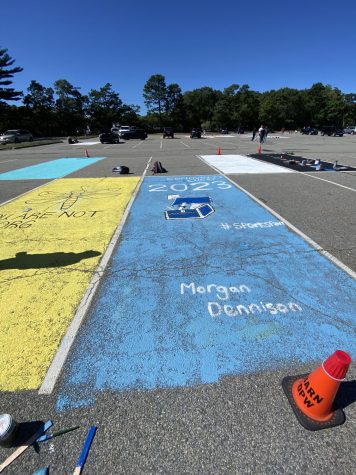 Following the paint day there was a rumor that parking citations would be given to those that parked in painted spots. Senior Tony Capelle had someone park in his space before he got to school. The school even made an announcement on the intercom for people to not park in the spots that are painted on. 
" I was mad because I paid for that spot so it's not fair," said Capelle 
 Students paid $25 for the parking space itself, then would have to pay for all the supplies (paint, brushes, rollers, etc.) as well. With how expensive this would be for some students they just chose not to paint a spot. 
" I didn't want to pay the $25 plus the amount for paint," said senior Nathan Stanley.
The teachers who bought parking spots however were charged more than students. They were charged $40 a spot. Christensen said this was done because staff is earning an "adult" pay and students are earning a "student" pay. The differences in financial ability between a staff member and a student are reasonable, and they believed it was acceptable to price accordingly.
"Think of it like going to the movies. When you buy a ticket, there are 'kid prices' and there are 'adult prices'," said Christensen.