The Bee-Pocalypse of Belonging
If you have recently walked through the main lobby you might have noticed an array of paper mâché bees on display. In today's Covid-19 havoked world, art teacher Filipe Miguel's goal was to inspire joy in the lives of the students who walk by these works of art everyday. Miguel worked with his fine arts 2 students to create each bee that has a separate theme or pun. 
"We started out doing expressive drawings and later more anatomical renderings of bees leading to a three dimensional paper-mâché sculpture. In general, we were looking for interesting 3D shapes that d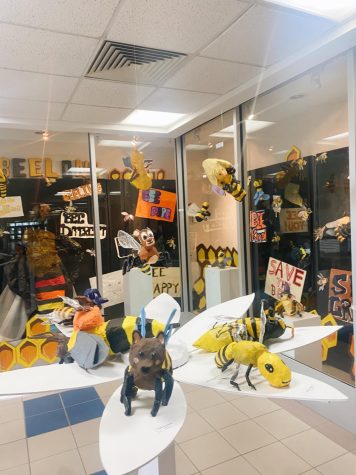 efined the basic bee form. We were asking students to come up with unique applications of materials for details like wings, legs, feet, antennae, etc.," said Miguel. Each bee was meant to be unique and represent each student individually. 
Before the start of this project the students had a zoom meeting with artist Matt Willey. Willey was an inspiration for this "Bee-pocolypse of Belonging," as he is currently working on a project called The Good of the Hive. The goal of Willey's Project is to "see and experience the beauty and connectedness of all things," according   website. Willey himself personally has made the effort to create and hand-paint 50,000 honey bees and with them, create murals all over the world. 
One of Miguel's students, Lucy Sherman, a sophomore, took a unique approach to her project. Her bee was based on Bambi, the fictional cartoon deer, as the head was meant to look like him. Sherman called it Bam-bee. 
"Through my project, I want to send the message that when you make art, it doesn't have to be so stressful and perfect, it can be fun and wacky and it doesn't really have to make sense but that is the best part of it. Right now, we all need more happiness and fun in our lives and that is what this whole project was about," said Sherman. 
For Miguel and his students the bees are symbolic of the concept of co-existing. "They represent our perseverance and our dependence on one another.  They are a call to nature's wonder and they shine some light on what's really important.  We all can use a little more joy, love and good will," said Miguel. 
The overarching theme in this project is the idea of community and getting along. "Ultimately we want to engage the public with work that evokes an emotional response. We aim to make art that moves people," said Miguel.