Tenth Season of American Horror Story Is Definitely Worth The Scare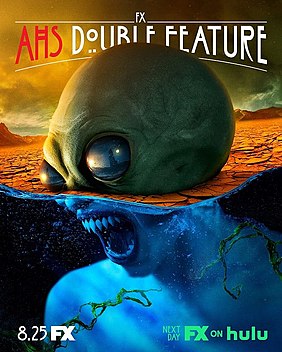 The weather's beginning to get chilly, which is a perfect time for staying warm inside and binge-watching a new show. American Horror Story released the tenth season, Double Feature, this year for their 10th anniversary. This season highlights the stereotypes of Cape Cod and more specifically, Provincetown.
The show begins with a writer, Harry Gardner, looking for a place to allow for creativity. He moves to Provincetown with his pregnant wife, Doris, and their young daughter, Alma, during the winter, in hopes of having a quiet environment. Luckily, with Doris' interest in interior design, she is offered a free stay for the family at a house on the beach as long as she adds a modern touch to the living space. Lily Rabe takes on the role of Doris where she presents such strong emotion and uses it in a way that makes the audience forget it is just acting. However, this is not her first time making an appearance on American Horror Story, it is the ninth season that she features in. Her only absence was the seventh season, Cult. Another American Horror Story returner, Robin Weigart, plays Martha Edwards, the house caretaker. With her limited moments of screen time she is able to exhibit a Bostonian accent which is definitely funny to perceive as someone who has been born and raised on Cape Cod. 
Holding their reputation of horror, already in the first few minutes of episode one, gory things begin to present themselves. It is definitely interesting to see parts of Cape Cod that I've been to, like stores and historical buildings, but with a twist of scary occurrences. An example of this takes place in the beginning of episode one when the Gardner family enters beautiful Provincetown and begins to see countless dead animals invading the streets. Also, the beloved "Mews Restaurant and Cafe," known for its sea view and great hospitality, was converted to "The Muse," for the show. "The Muse" is a large portion of the scenery as it is the center of the town. Not to mention, it was super cool to see multiple of the city's gorgeous houses play such a huge part of the plot as the main characters' homes. 
No season of American Horror Story has ever disappointed me and I'm happy to add Double Feature to the list. However, no previous season kept me so intrigued as this one did. The producers do a great job of adding curiosity to the suspense of what could possibly be horrifying about the happy and loving Provincetown. 
With popcorn in one hand and a stuffed animal in the other, you should be all set. In all honesty, I suggest giving it a try as long as you are someone who doesn't scare easily. This show will frighten you, but amazingly also keep you on the edge of your seat; constantly wanting more.