Q&A With Football Commit Brenden Dowling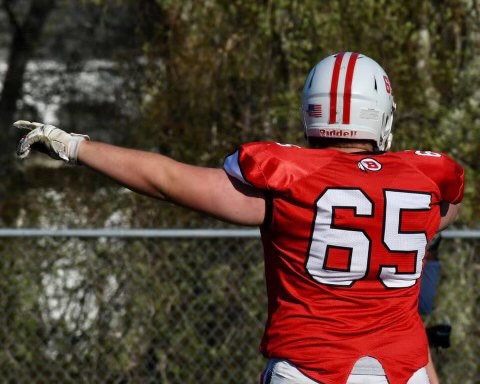 As of this week, there are multiple BHS seniors who have committed to play a sport at the collegiate level in the following year. Insight is seizing the opportunity to interview these athletes throughout the spring as they prepare for the next phase in their athletic careers.
Bentley University.
What position do you play in football?
 Offensive Line.
 When did you start playing football? 
2011 at 8 years old.
 Did you always have a passion for football? 
Yes, I used to have stuffed footballs as toys.
Was there a moment or time when you realized that football was something that you wanted to pursue collegiately? 
Half way through my junior year when I realized how far my abilities had come.
What is your favorite thing about the sport? 
The fact that everyone has to be able to complete their job and every single play. It's a team game that teaches you a lot about life. 
What is the greatest lesson that you have learned from football? 
Never give up and always work hard behind the scenes. 
What are some goals that you have for college football?
I would love to be an all star during my career and I am working hard to try to play a few games during my freshman year. 
Is there someone or something that has inspired you in your sports career? 
My dad has always been pushing me. He's taught me everything I know about lifting weights and has dedicated countless hours to helping me get to where I am today. 
What has been your biggest achievement in crew? 
I was able to help our team win two consecutive league championships and two consecutive games against our rival, Falmouth. 
What are challenges that you have faced or obstacles you've overcome in getting where you are today?
 I had to take over the spot of a player who had started the year before. I had to work to take the spot and show coach that I deserve to be on that field. 
What about your sport motivates you the most?
I just love the game so much, but I love it a lot more when we're winning. I can't win if I don't put in all of the hard work, so the drive to win has motivated me to work harder and harder. 
Do you have any pregame rituals or superstitions? 
I always have to listen to music before the game and I always yell "Let's go" after the completion of the national anthem. 
What are other interests or hobbies that you have? 
I love to golf and have recently gotten into poker. 
Do you have a piece of advice for aspiring young athletes? 
Don't take any second for granted. Enjoy every workout, every sprint, every practice, because it'll be over before you know it.