Search For New Principal Concludes
With former principal, Patrick Clark's resignation, many members of the Barnstable High School community were left wondering how to handle the sudden change. Change often results in new beginnings, which ultimately led to a search for another principal that would lead BHS down a path to innovation.
Liz Freedman,  the current principal of Greater Lawrence Technical High School in Andover, Massachusetts, is currently transitioning into her role as BHS's new principal. She has already visited the school four times. Serving as the principal at Lawrence Tech. for 12 years, Freedman has a wide variety
of experience with education.  Before being a principal, she worked as a school adjustment counselor and dean for the Peabody public schools. 
Freedman said BHS was the only school she applied to because one of her peers talked about its diversity, as well as the district's work surrounding social-emotional learning and equity. Freedman was one of four finalists candidates when she applied to be the new principal. 
Freedman briefly met with BHS teachers and staff during an ice cream social during teacher appreciation week. "Every teacher I've come in contact with talks about how lucky I am to come work here and I love that," Freedman said. "I definitely got a sense that people are happy to be here."
Since she starts her position as principal in July, she is anticipating reviving BHS after such a difficult school year. To prepare for the role, Freedman shadowed two students—one freshman and one junior—for the day and was impressed by their interactions with peers and staff, as well as the whole student body's resilience during the COVID-19 pandemic. She enjoyed seeing their involvement in the physical education integration class, where mainstream students work with students in the special
education program. As the new principal, Freedman would like to dedicate some of her time to maintaining and improving the arts.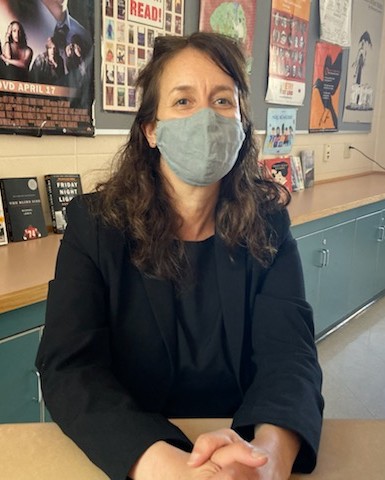 "I'm a firm believer in the arts because you can integrate it into everything," Freedman said.
"Personally, I felt like Liz Freedman had the most fitting personality and experience for our type of school," said senior Audrey Sawyer who served on the principal search committee.
Two students, including Sawyer, were featured on the panel amongst a group of adults including BHS staff and parents. Despite this, Sawyer felt welcomed to the group and that her voice was heard, especially by dean Hope Taylor. To prepare for interviewing the four finalists the committee was tasked with compiling 20 important questions to ask each of the applicants. According to Sawyer, this was a lengthy process but important for when the actual interview sessions took place, as it would ultimately be a defining factor in determining the new principal. The interviews and meetings were conducted over Zoom and were roughly one and a half hours to five hours. 
Town of Barnstable Human Resources Director Bill Cole was in charge of leading this committee; he has been the town's human resources director since 2005. As chair of the committee, this was the first time Cole was involved in the hiring process for a principal at the high school level, but not overall. He had done previous searches for Centerville Elementary, Barnstable United Elementary, West Villages Elementary, and Barnstable West Barnstable Elementary. 
With no time to waste, the search process began shortly after Clark's resignation and the committee first started meeting in February. According to Cole, the committee developed their criteria for the search "based upon input from staff, parents, and students."
Senior Emily Cahill was able to attend the in-school community interview with the two finalists and noticed how "honest and genuine" Freedman was during the questioning.
Aside from the arts, Freedman wants to focus on making sure everyone feels equal and understanding what steps need to be taken to grow as a community. 
"I want to hear their hopes, dreams, concerns. I have really high expectations but with a very open style," Freedman said.