Fast Food: The Downright Crazy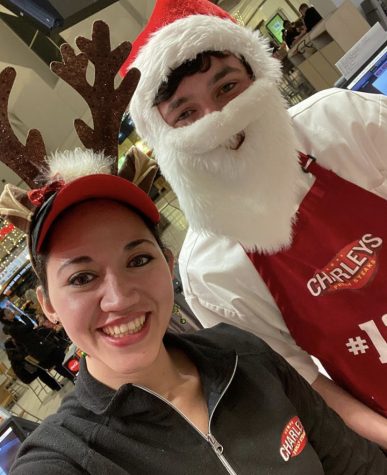 Whenever I tell people that I have worked at the Cape Cod Mall for three years, they practically salivate at the chance to hear my wild (and sometimes unbelievable) customer service experiences. Truth be told that when you work at this mall, no day is quite like the last.
I began working at my fast food restaurant Charley's Philly Steaks during its opening day in late 2018. After starring as the lead role in a school play, I realized I would rather be making money than shattering my vocal chords. I doubt I stood a chance in the acting world anyway, because let's face it—I am not the next teenage heartbreaker or anything. 
During these years behind the service counter, I have witnessed several casualties: the rise and fall of Stuart's All American Grill, Sears going bankrupt, and The Gap's store layout looking like some type of low budget warzone originating from The Walking Dead. 
My fast food restaurant has an infamous rivalry with the thai restaurant… ironically enough, they only sell chinese food. We are constantly competing against each other for sales, and sometimes we resort to playing dirty. Prior to COVID-19, I would distribute food samples to customers on Saturday during lunch. As soon as I would trade my black apron for the red sample apron, my fiercest opponent would race to hand out spicy chicken samples. In order to level the playing field, I sent one of the mall's housekeepers to retrieve a sample for me to taste. In addition to this, I paid one of them to purchase an iced tea so I could see if it was better than ours. That was only the beginning of my career as an undercover mall food court cop.
During the summer of 2019 we hired a college student from Malaysia who received a three month work visa. Since she did not have a driver's license, she had to ride a bicycle to work. One day she was approached by this guy who resembled Wanda Wayne from In Living Color. She had no clue why she was saying yes, but somehow by the end of the conversation he was peddling away on her bike. All of us back at the store were livid when we discovered this the next morning. It turns out that "Wanda" told her that he needed the bike to make a "delivery" and that he would be right back. She was able to capture a picture of Wanda, and while we were on our lunch break she showed me a picture of him.
By the grace of God, I looked up from chowing down on some cheese and bacon fries and I saw Wanda off in the distance. I instantly raced after him, hoping to catch a security guard on the way and retrieve my friend's stolen bike. However, I tripped and fell flat on my face in front of everyone. I was absolutely horrified — and that was worse than the time my boss did not know what an ankle bracelet was and accidentally hired a runaway teen on parole to serve samples. Long story short, she was fired a day later.
Unfortunately, that was not the only incident we have had with Grand Theft Cheesesteak. Some guy who had his beard groomed like Tom Hanks in Castaway stole our donation box, and some teenagers — whom I jokingly call mall rats because they practically live there—hijacked the carousel and ran off with the tickets. Once again, I attempted to be a hero and failed. This time, I tried calling the mall's security phone number to inform them of the theft, but it went directly to voicemail.
Now I have tons of more crazy stories in my back pocket, but this is an article not a novel and we need to keep it rated G. Despite all of the chaos that floods the mall, there is a lot of love, too. I am extremely grateful for my bosses, manager, and regular customers that I have had the pleasure of knowing for the past three years. Not only have they filled my life with laughter, they have motivated me to pursue my dreams of becoming a writer. When I leave for Boston University next year I will miss my work family, Lisa from the jewelry store, Donna from the carousel… the list is endless. I have experienced several accomplishments at such a young age thanks to this job, such as becoming the fourth best seller nationwide for my corporation in 2019. I will forever hold this point in my life near and dear to my heart, never forgetting the kindness, connections, and sometimes craziness, developed along the way.