The Side Hustles of Barnstable's Teachers
Have you ever seen your teacher, former or present at the supermarket, the mall, or anywhere out of school? Most students forget teachers have lives outside of school and can be surprised to find out about them. Some of our teachers here at Barnstable High School indulge themselves in creative activities like painting, making jewelry, or stickers. They have even created businesses from their passions and have been selling and producing products while balancing their job at the school.
Mr. Ted Skirvan, a former counselor who's now an art teacher at Barnstable High School, has been maintaining his business, Beach Point Design and Local Cape Cod, since 2014. Inspired by the beauty of Cape Cod, Skirvan has always had a passion for art. His business sells artwork and stickers in 15 stores around the Cape. He uses Instagram and Etsy to sell and share his work.
"The staff at the high school have been incredible when they found out about my art business, and were asking where they can buy prints and original artwork," said Skirvan.
Skirvan works to create pieces that people request or original works and finds inspiration by the teachers and students in his own classroom and school. Skirvan also explained how his business never interferes with his school work. All artwork is shipped out on weekends and after school and his local Cape Cod business goes into high demand just when summer is beginning and the school year comes to a close.When COVID-19 hit, his sales were better than ever before, which helped him stay busy when the school and mostly everything was shut down.
"When you do what you love, it never seems like work, so to me having the businesses is just a natural extension of what I already do every day," said Skirvan.
English teacher Meghan Fligg has also developed her own side business called the Freckled Hawk. Inspired by strong women she knows who overcame great struggles, Fligg creates pieces of jewelry for her own enjoyment and as a business. In each of her pieces she tries to put nature, like sea glass, sand or sea glass and even dried flowers, which bring a more tranquil look to the collections. As a brand new business which began in April 2020, The Freckled Hawk received much support from fellow teachers and former students. She said many participate in her fundraisers where money goes to people in need, especially during the beginning COVID-19 lockdown.
The name of Fligg's business, Freckled Hawk, has a multi-layered history. Her father loved watching hawks, and as he grew ill, one would always perch himself outside of his hospital window. Unfortunately he passed away when Fligg was in high school. Afterward, Fligg would always see hawks when she felt he needed him most. Not only this but Fligg has many freckles on her face, inspiring the name "The Freckled Hawk."
She said that creating jewelry was a way for her to relax and unwind after a day of teaching and was a good way for her to focus her energy on during the initial lockdown of COVID-19.
"I can say from the creative aspect that I had no idea how much I needed this in my life. It has been an outlet and source of happiness that could not have come at a better time," said Fligg.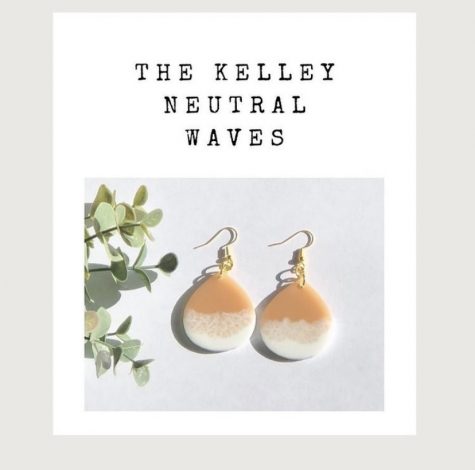 Leave a Comment