Virtual Reality Video Game Sword Art Online makes its debut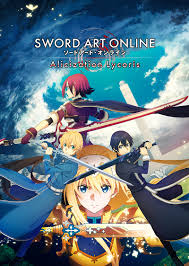 Picture it: instead of kickstarting 2020 with COVID-19, a virtual reality video game called Sword Art Online [SAO] makes its debut. Gamer geeks everywhere have been anticipating the release for ages and are dying to purchase the first set of copies. 10,000 lucky gamers are selected to participate in the launch of SAO, so they put on their headgear and begin the game.
Once logged into the game, the players realize the logout button has mysteriously disappeared. The game's creator — Kayaba Akihiko — teleports everyone to the initial starting point, informing them he has trapped them inside the game. He explains that if you die inside the game and your data is erased, then your headset destructs itself in the real world, destroying your brain and causing you to die in real life forever. The only escape back into reality is to beat the game, and in order to do so each player must conquer 100 floors, beating monsters and level bosses along the way. 
Now that I have told you about the basics of the show to keep you intrigued, let me drop a surprise: it is an anime. I found this series on Hulu one day and have been obsessed with it ever since. And to all of you anime haters, do not judge a book by its cover or a show by its title. Never in my life did I think I would be binge watching a crazy anime with people constantly killing each other, but it was so easy for me to be invested into the main characters.
SAO centers around two players, Kirito and Asuna, who join forces in an effort to survive. Along the way they encounter villains, malevolent creatures, and serial killers, and their rivalry eventually transforms into a budding romance hoping to someday reunite with each other in the real world. SAO's constantly changing and developing plot will be sure to keep you on your feet, rooting for every character to escape before it's too late. Although there is only one official season on Hulu of Sword Art Online, there is a sequel series you can find on the streaming app called Sword Art Online 2 as well as additional movies and spinoffs. I am not sure why every "series" is only assigned one season, but I do not think it disrupts the flow of the storyline at all. I have watched the sequel series, Sword Art Online 2, and it picks up right where the first series left off, so it's basically like a second season. Now is the chance for everyone to invest some time into this show before it's too late and the next series debuts, so stop reading and to it.