"Driver's License" Breaks Musical Records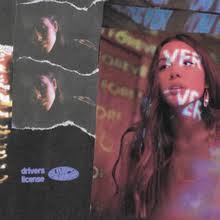 On January 8,  Disney Channel actress Olivia Rodrigo dropped her debut song "Driver's License" which has dominated the charts for the past few weeks. Rodrigo, whom many might recognize as 'Paige' from the show "Bizaardvark" or as her newer role of 'Nini' in "High School Musical: The Musical: The Series". At just 17 years old, Rodrigo has broken numerous musical records with a melodramatic ballad about the struggles of teenage love. It has broken Spotify's record for most streamed song in a single day, with over 17 million streamers tuning into the project in its first 24 hours. 
The melancholic nature of the melody and lyrics has allowed people from all walks of life to relate to Rodrigo. A few days after its debut, many online listeners sought to find out who the young songstress' pop track might be about. Through numerous insider sources, Rodrigo is said to be singing about 20 year old co-star, Joshua Bassett who appears as Ricky alongside Rodrigo in "High School Musical: The Musical: The Series". Bassett was rumored to be Rodrigo's love interest both on and off screen. Due to the age gap, many speculated the relationship ended over the fact that Rodrigo is still a minor.
Bassett is said to have told Rodrigo that he would wait for her since she would be turning 18 in February, but soon moved on to another girl who inspired the lyrics "And you're probably with that blonde girl. Who always made me doubt. She's so much older than me. She's everything I'm insecure about." who many believe is in reference to popular musical artist and fellow Disney Channel star Sabrina Carpenter, who Bassett has been seen going out with on several occasions. Bassett is also said to have taught Rodrigo to drive, which is what coined the title and overall plot of the song. While others believe the entire situation was crafted and is probably some kind of publicity stunt, that would be for the listeners to conclude for themselves. 
Overall, the song is about a girl who loves a guy who has left her for an older girl and now it pains her to drive by the places they once did because it reminds her of the love that didn't last. I listened to this song around the exact hour it came out and was instantly captivated. I am usually pretty wary of Disney actors and actresses who attempt to dapple in a musical career, but I was already highly impressed by her previous song "All I Want" for the HSMTMTS soundtrack, I was extremely excited to hear her first personal project and had high expectations.
Although I personally cannot relate to what she was singing about, I had a heavy heart anyway. All the emotion she displayed in the visual and lyrics I was able to feel the heartache for myself, which I always look for in music, a song that can make me feel something. The song is so mature, authentic and intimate. I almost felt intrusive just listening to it. It felt like listening to a break up letter to the point where I was like "This sounds way too personal for us to all be able to hear it." 
So if you're looking for the perfect song to remember the one that got away this might be the tune for you. If you're interested in the backstory of this song in more depth, both Bassett and Carpenter have recently released songs that many speculate are in response to "Driver's License". But, I recommend everyone give this song a listen because I think everyone can relate to it and if not, it's just a great song everyone should hear.