The Sarah Trott Show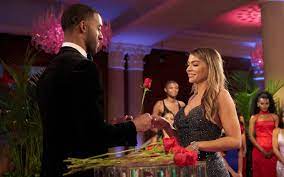 I take it back about what I said last week in my Bachelor recap, Sarah Trott is not going to make it far in Matt James's season. Last night's episode was less about James's journey to find love and more about Trott's problems. 
Last Monday, the Bachelor ended and left us on a cliffhanger with Trott fainting at the rose ceremony. Last night's episode revealed that she ended up being okay. The other contestants were being rude when Trott blacked out. They were saying how Trott fainted so James would give her attention, which is a ridiculous thought.  
Getting off the Trott train for just a second, the rose ceremony was painful to watch since James sent home five amazing women, and chose Victoria Larson to stay, and I honestly felt embarrassed for him. Since James has kept Larson on this show for a few weeks now, maybe he actually likes her annoying, cruel demeanor. After Larson received her petty rose she said, "Marylynn is gone, now it is Sarah's time to go." She won't stop going after other women and starting unnecessary drama.    
After the dreadful rose ceremony, James had another group date, and saying it got personal is an understatement. Bachelor nation got an erotica group date, and it was awkward. Later that evening, James gave the group date rose to contestant Rachael Kirkconnell. Since night one, I have liked Kirkconnell. She seems very kind and down to earth.  
Happily moving on from the eerie group date, the night did not end well. Trott wasn't on this date but she managed to sneak into the cocktail party to talk to James about her emotions and how difficult this journey is for her. 
The girls on this group date were furious that Trott interrupted their date. These women bullied Trott so harshly. The harassment and bullying made Trott stay in her room all day. 
Later in this week's episode, James went on a one on one date with Serena Pitt. Their date was very romantic, and they had a lot of fun with each other. They formed a strong and undeniable connection. 
While Pitt and James are on their date, Trott is struggling at the house. The next day Trott visited James's apartment and told him she was going to leave. She said she can't deal with this process, knowing her father could die any week from ALS disease. I feel terrible for her, especially because they have a great relationship and it could have ended with an engagement, but spending time with her father is far more important. But I believe we haven't seen the last of Trott, I think she will make an appearance in a couple weeks or so, and I hope she does! 
Check here next Tuesday for another Bachelor recap. From the looks of the premier for next week's episode, you will want to read about it.