Two Sports One Choice
Many students at Barnstable High school play multiple sports, such as myself. My sports are volleyball, indoor track, and outdoor track. Due to COVID this year, two of my sports were moved to the new season Fall II.  
Volleyball, my main sport, was moved to Fall II before the school year started. This is because it is considered a high risk sport since we all touch the same ball. Indoor track, which formerly took place in the winter and is my second favorite sport, was moved to Fall II right before the winter season. I was really annoyed that winter track had moved so suddenly. I could've taken other opportunities for club volleyball season but that was the least of my worries.
With the two conflicting sports, there was a choice to be made. Still my question remains: Why out of all the winter sports would they move indoor track to Fall II? Indoor track is one of the lowest risk sports there is and there are so many precautions you can take to make the original season work. Putting runners in every other lane, sanitizing the field equipment, and sanitizing the batons used for relay races are just a few changes that can make this sport safe. Track is mostly cardio with little contact, so for races you don't need to wear a mask, but if you are not participating in a race then runners should be wearing one. I don't think it's that hard to make guidelines such as these to keep sports in their normal seasons. It's also not fair to kids like me to have to choose between two sports that I love.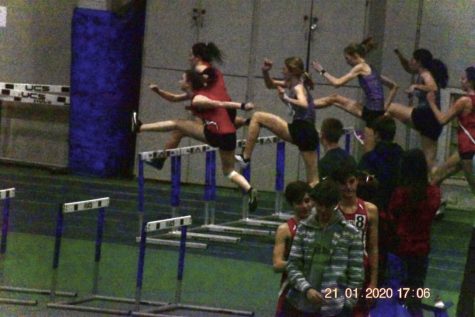 As it is a high risk sport, I completely understand moving volleyball to Fall II. However, it is very different from indoor track. I have been playing for as long as I can remember and because it is my main sport I chose to play volleyball for Fall II. I wish I could play both sports, but the MIAA had to move indoor track. It's frustrating that this is being taken away from students like me. I can't play both sports that I love this year and indoor track usually prepares me for my club volleyball season by keeping me in shape during the winter. I wanted some sense of normalcy with my sports seasons, but everything is different this year
All of my coaches have made me a better athlete, but I can't be pushed by my track coaches this year. Instead, I will be on a court playing a different sport that also brings coaches that push me. It's not going to be the same and after this year nothing ever will be. I think we all want COVID to disappear, especially the athletes who got their sports season taken away. My choice was hard to make, I had to pick between two of my favorite sports and I was torn for a little while. 
In the end, volleyball was my choice. I love all the sports I play but because of COVID I got another season ripped away from me. There has been a lot of information about our season on the MIAA twitter page, and Coach Tom Turco has also been great at keeping us updated. I never want to have to choose again, and nobody should ever have to choose between passions in the first place.