Ariana Grande's "positions" Album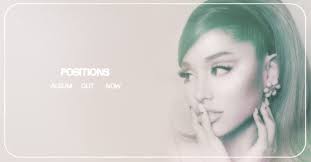 Following the widespread success of her two previous albums, "Sweetener", in 2018 followed by "thank you, next" in 2019, Ariana Grande released her sixth studio album "Positions" at the end of October. Grande debuted a mature sound while dabbling in genres such as trap and contemporary R&B. Some of the most popular songs from her newest release include "'POV" and "positions". Grande used this album as a way of showing her maturity and new perspective on her musical career. We see her come into her womanhood and openly express her sexuality.
 Throughout her career, including her role in the Nickelodeon show, "Victorious", critics of Grande have wanted her, now 27, to maintain an innocent, youthful approach to her music. Through this most recent body of work she is able to say "I am Ariana Grande and I am a woman." My personal favorite track on this album was "safety net" featuring Ty Dolla Sign. The beat is very relaxing and the background vocals are stunning. It was an amazing and impressive album, you can hear how much hiphop is starting to influence Grande's music. With features from Doja Cat and the Weeknd we see Grande pull off a nice contrast between positive and upbeat tracks to dark and passionate ones with seamless transition. 
One thing I would like to see in the album is more of a ballad type song, maybe to tie things together at the end. While I did appreciate the upbeat tracks Grande produced,  I just would have loved to see another ballad from her. I do love this positive turn in her work lately, it makes it so pleasant to listen to and this body of work is a great example of growth for her as a musician.
I really enjoyed how she tried so many different styles of music, but still stayed true to her own voice. "Off the Table" is also a great song, and I loved her collaboration with the Weeknd in the song "Love Me Harder" so I was very excited to see them work together on another song.
Vocally, I was most impressed by her high notes in "shut up", Grande showcases even more of her powerful vocals and the ending was very beautiful as well. Overall, I was very impressed by this album and would love to see Grande do more R&B focused work in the future.