BHS To Change School Mascot
After numerous discussions, BHS has decided to retire the 'Red Raider' mascot.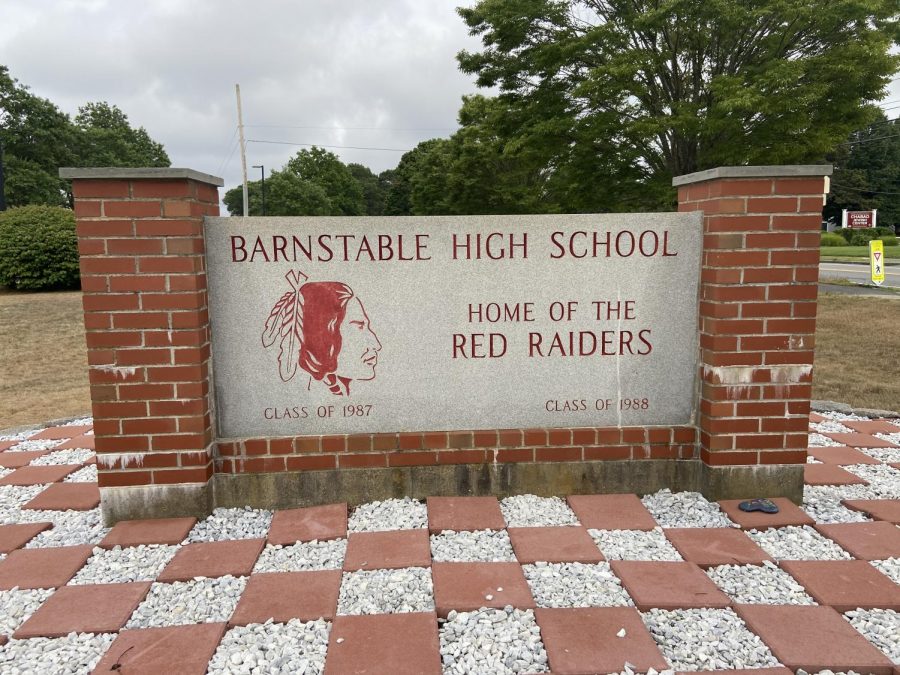 Earlier this Spring, the question of whether the Barnstable High School Red Raider mascot should stay or go arose and quickly became an issue that students and alumni alike reacted very passionately to; although, not all were in agreement with the Barnstable School Committee's decision to ultimately retire the Red Raider name. 
The use of "Red Raiders" has been concerning to many for quite some time now and even influenced the school to change the mascot over the years from a profile of a Native American in a ceremonial headdress to a B with a feather, so school committee member Barbara Dunn said she believes it's no surprise that this movement to change the mascot has arisen again.
With the committee's official decision to retire the name and mascot in a meeting on August 4, the question of when the new mascot will be implemented and what it will be has moved to the forefront of the discussion.
At the end of October, a survey was sent out by the Barnstable Public School District in hopes of getting feedback from the community that will aid the school committee in choosing a new mascot. In this survey, community members were asked to suggest school colors, explain what they envision the new mascot being in order to reflect the school values of pride, respect and honor, and if they want the mascot to be representative of the entire school district or just the high school. 
This survey was created and will be tracked by the Community Engagement Committee, a subcommittee of the school committee chaired by Dunn. The survey will be closed a little before Thanksgiving and in the following months the Community Engagement Committee will scour the results to pick a recommendation for a mascot that will be presented to the School Committee. 
"Our decision will be primarily based on the survey; it is our resource to get feedback and I absolutely believe that the survey is our guiding force," said Dunn.
Dunn projects that the committee will have a decision on the new school mascot by January, but that is not finalized. 
"It is a very emotional topic and has created frustrations," said Dunn, "we just want this to have a positive end result of people feeling good about the mascot."
Even once the mascot is decided, the change to implement the new mascot is not necessarily going to be a quick one. 
"It all depends on what money becomes available; it would definitely be a process. At this point I'd say it'll take two to three years for a complete transformation" projected Scott Thomas, athletic director at BHS, about needing to get new uniforms, signage, a logo, etc.
Junior Abby Ewald and her brother senior Charlie Ewald have been very proactive in the process to change the mascot, even launching an instagram page with five of their peers ("changethebhsmascot") that has gotten lots of attention, causing their first post to receive almost 900 comments and 1,400 likes. This account sparked some very good conversations, but some ignorance about the mascot as well, according to Abby and Charlie. 
Charlie's research of the Red Raider mascot influenced him to get involved in the change and inform his peers and the community on what he found.
 "There's always been the thought of 'is it equitable for Native Americans' and when I did the research I found that the answer was definitely no," said Charlie.
To Abby, this change is long overdue, "There were several movements over the years to get it changed and it's been swept under the rug too many times," said Abby.
There have been varying opinions among students involved with BHS sports teams because in general terms, a mascot is meant to be representative of a school's athletes and something they can take pride in.
"For decades we have been represented by the red raider and not once have I heard of a case of anybody saying that name with malintent or to put somebody down," said senior Brenden Dowling, "We have nothing to show who we are anymore."
Others found that being an athlete at BHS made them more eager to fight for a change in the mascot, "We see the mascot more in our daily lives, realizing that everything we're around has a Red Raider on it makes me more passionate about it." said Charlie Ewald, who runs for the cross country, Winter track and track and field teams.
Makhai Pells, a 2017 graduate of BHS, shared some of his experiences and insight attending BHS as a black and indigenous man. Pells has been part of an involved group of recent alumni who have called for the mascot name and image to be changed.
"I was asked in an English class my opinion on the mascot and was debated. Such a thing should not be debated," said Pells. "I would tell people to consider why it is so important for them to hold onto such a caricature and name as their mascot. Is it really for the aspirations of pride, respect and honor? And for whom? People are not mascots."
Pells advises people to engage in indigenous history and educate themselves to grow their knowledge and show real support for Indigenous peoples. 
"I want real engagement and understanding not just hollow claims or outwards displays of support," said Pells.
"I would never consider it normal to have a caricature of another human being or race depicted as a school symbol. Especially with a term that carries a racial slur connotation like Red Raider," said Pells. "I am only one voice among many descendants across the nation whose ancestors faced the full brunt of colonization, genocide, assimilation, or were removed forcefully from the land their faces now represent in the name of sports." 
Pells added that tradition alone isn't reason enough to keep the mascot.
"Our schools, or any other people should not be using Indigenous cultures, claiming it as their own for school pride, and refusing to let it go," said Pells.