Standout Star: Teagan Dymek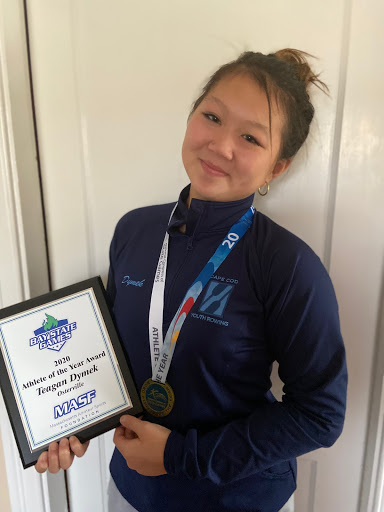 One of the newest students at BHS is already turning heads. Senior Teagan Dymek moved to the Cape this summer and has been thriving in this community since. Dymek participates in club volleyball, swimming, and rowing and she is more than prepared to take on others. 
Just recently, she was named National Congress of State Games National Youth Female Athlete of the Year in the 18 and younger age group. In reference to the award, she said, "I enjoy competing and pushing myself to be the best athlete that I can be. Because I am somewhat shorter than the average athlete, I've always felt I have needed to practice more and better than my competitors. I've always competed in sports in which height is considered an asset so I've pushed harder to be better and stronger than my competitors," 
When she first heard about the award, she said, "I was surprised and honored, not to mention very proud. It was wonderful to have been selected from such an amazing pool of athletes," 
This superstar has been playing sports her entire life. "I began swimming at nine months old in a mommy and me swimming group. I began playing T-ball at about age 4, then I joined Greenwood Swimming with my older sister, and then later began playing club volleyball," said Dymek. 
She continued to excel athletically and decided to pursue the sport of rowing. "I had friends who suggested that I try rowing, I had also been to the Head of the Charles several times and rowing seemed like something I might like. Two years ago I tried a learn to row summer program that was offered here on Cape Cod by Cape Cod Youth Rowing (CCYR)." 
Dymek may not consider herself to be an average-sized rower but she is definitely one of the strongest. She also participates in both volleyball and swimming club teams. Her schedule is extremely busy, and on top of that she is adjusting to a brand new school, yet she still remains positive. 
"As a family, my boyfriend included, we discussed my move to the Cape and what would be best for my training especially since I wanted to continue to row at the collegiate level. It has been difficult to transition to a new school as a senior, having to leave all of my friends and old teammates behind. I have found it to be very challenging to meet people at school because of the hybrid learning plan and only being in school two days per week. Thankfully, the CCYR team has been very supportive and welcoming," said Dymek. 
She is looking forward to rowing collegiately and in addition to rowing, she plans to pursue a degree in public health with a concentration in epidemiology. When she isn't practicing or playing, she enjoys hiking, working out, hanging out in Boston, shopping, and drinking coffee. On top of all of that, Dymek still makes time for family and travel even with her intense schedule. 
"My favorite memory is traveling to Philadelphia with my old rowing team to compete at the Head of the Schuylkill Regatta in 2019. A family trip to Sweden in 2019 to watch Kasja compete was an exciting trip as well," she said. 
Dymek's older sister Kajsa is a huge inspiration to her. She said it's "because she is driven, a hard-working student, and a D1 athlete. She is great at balancing both a heavy academic workload and swimming as a part of a very competitive DI University team. She attends Rutgers University in New Jersey and competes both nationally and internationally."
Dymek's athletic career is very important to her. When asked what a few of her favorite things about sports are, she says, "I love being part of a team and competing, doing my part to make that team more successful, the lasting friendships that I make along the way throughout my athletic career is very important to me. My coaches in volleyball, swimming, and rowing have always supported me in everything I have tried to accomplish."  
One of her coaches at CCYR (Allison Schiffmann) says, "I am so excited to see where Teagan goes in the next few years. She is a very motivated young girl and I am sure she will succeed in all of her future endeavors."