Outer Banks Netflix Review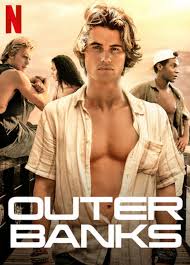 Netflix's hit series "Outer Banks" brings the viewers onto the shores of the Outer Banks, North Carolina. The plot follows the life of 16-year-old John B and his friends Kiara aka Kie, Pope, and JJ.  It's the summer, and the group of friends also known as the "Pogues" are looking forward to a few weeks of fun in the sun. John B is grieving the loss of his father who had disappeared at sea a few months back. He finds a compass his dad left behind and the rest of the season describes his journey to find the gold his father set his heart on finding; With the help of his friends and new love interest, Sarah Cameron, John B learns not everything is as it seems. 
At first, I thought this show was very boring. It was extremely slow to start and I wasn't really that intrigued until around the third episode when they first begin their treasure hunt. This hunt began when John B's father was working Sarah Cameron's father, Ward, in order to find this said gold. After a while, John B's father wanted to resume the search on his own and keep the treasure for himself since he had spent the most time looking for it. Much to the disapproval of Ward, the two engage in a physical altercation which ends with Ward bashing John's B dad's head against an object and then throwing him overboard. John B's dad later washes up onto an island where he signs the compass in hopes it will reach his son and is later presumed dead. But after a few dull episodes, you do find yourself quickly finishing the entire season or wondering, what happens next?  The characters all have very different yet relatable stories, if you can't relate to one you can surely relate to another. Like John B being a child afraid of entering the system and JJ's turbulent relationship with his abusive father.
 I thought the yellowish lighting gave the show a very old time beachy film type feel which was very visually pleasing. This show has a great way of making you feel like you're right there in the scene. You can feel every emotion as if you were experiencing the same thing the characters are. Such as when the characters expressed anguish over John B and Sarah at the end, you could feel every ounce of their heartbreak. I can definitely say this wasn't one of my favorites but if you are interested in mystery, teen angst and adventures on the beach this very well might be the show for you. Although the show left us wondering what is next for John B, Sarah and the rest of the Pogues, I can confirm our questions will be answered soon as the cast has already begun shooting their second season.