For Coach Taylor, it's About More Than Just A Basketball Score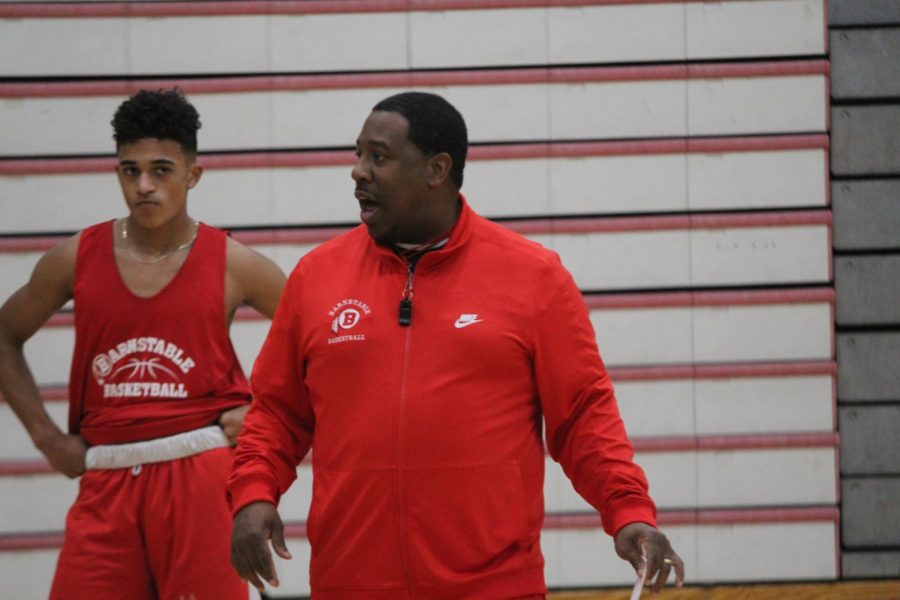 Abigail Olsen, Staff Writer
March 3, 2020
For a basketball team to excel, it comes down to the players having talent, but also encompassing the ability to work together as a cohesive unit. Alik Taylor, head coach of the Barnstable High School boys basketball team, hopes to achieve this on and off the court as he takes on his first season coaching the team.
Taylor, who is also the director of project excel and department head for alternative learning, grew up surrounded by basketball and fell in love with the sport after his dad got him into it at age 7. Since then, everything became basketball for Taylor and he played all four years at LaSalle Academy and went on to play at the collegiate level at St. Lawrence University.
Taylor went to college knowing that he wanted to pursue a career that would involve him working with kids, "I realized I could get into coaching and have a positive effect on young adults," said Taylor, so he kept this mindset and ran with it. Throughout Taylor's coaching career he has coached different varsity teams, travel teams, has been a director of the Cape Cod Eclipse AAU program and worked different camps. So while this may be his first season coaching the boys at Barnstable, he has a great amount of experience.
Taylor's enthusiasm and optimistic mindset for the current season has already made considerable impacts on his players. One lesson that senior captain Alex Woolery has learned from Taylor is that "Your teammates will always have your back, so just put trust in them." This has helped to create a family dynamic for the team, in that they're more to each other than just teammates.
Senior captain Nick Wilson adds to Woolery's statement with, "This year basketball is fun, it's a sport we all enjoy to play. We're like a family now."
"One of the big things that I'm noticing is their willingness to play not just with each other but for each other," said Taylor. This is a tone that Taylor wanted to set as the coach and is working on doing so by having as much open communication with his players as possible.
"It's not just them getting to know each other, but them getting to know me," said Taylor. "For me it's more so about being involved in the community. I'm visible and I'm open for people to see me and talk to me and share some time with."
Taylor's efforts to be available for his team is something that doesn't go unnoticed by his players, "You just form a relationship with him really easily," said senior captain Adam Meizinger.
While winning is important to Taylor, he has great aspirations for his players beyond the game as well.
"I want to consistently have seniors and all players graduate, attending college and with hopes of some of them playing college basketball," said Taylor.
"I enjoy going to practice, I enjoy getting ready for games. It's strange to say, but I feel like I'm spoiled by the team we have," said Taylor, "I was teaching and they were learning and they've been getting better at it daily."
The team has a 5-9 record right now but they are aiming to be 10-10 by the end of the regular season so they can qualify for playoffs, according to Wilson.
"My goal is to be here for a while coaching, because when you have consistency in a program, then there's growth."