Little By Little Stealing the Show
Bridget Botelho
February 5, 2020
For senior Raquel Wallace, an ordinary high school life is like a breath of fresh air. Before moving back to Barnstable in the summer of 2019, Wallace has been dancing professionally for the past  seven years of her life. She's appeared on stage with Justin Bieber for his "Purpose Tour" in 2016 at the age of 14, a Nickelodeon Kids Choice Sports Awards show, and danced professionally in shows around New York.
Wallace said, the love affair with dance began as a hobby at three years old when her Mom threw her into a dance class and a variety of other activities. The connection between her life and dance she said was instantaneous and steadily her skills grew. At about eight years old, people started to notice her talent. At, the age of 14 she was living in Manhattan, and dancing and performing around New York with her dance company: Tokyo The Company.
Wallace admitted that she truly had no idea what she was getting herself into. At 10 years old, she found herself a month and a half deep for her first ever auditions. Wallace never would've gotten through the auditions if it weren't for her community or her compassion to perform.
"As cheesy as it sounds, you have to have perseverance. There's so many no's before a yes, but in the end, it'll make you go far and work harder," said Wallace, "I've been working professionally since I was 11 years old, and it's draining. I always felt that I never had a moment to breathe. I really wanted a normal life."
Despite the fast-paced lifestyle of New York, Wallace made many friends through her dancing and theatre career. Some of her favorite spots including downtown in SOHO or the restaurants where her instructor would treat her and the other dancers to a meal. Wallace explained that despite New York's enormous size and structure, there always seemed to be someone in the street she knew.
In addition to her bustling schedule, Wallace still found the time to help create a non-profit : "Little By Little". Little By Little focuses on disadvantaged children who aspire to become dancers, singers, and actors, but who struggle to have the exposure of a performing arts programs. Through this project, she's been able to reach out to hundreds of kids and guide them along the path they wish to take. The inspiration for her outreach came when she realized a close friend from Colombia had disappeared and later learned she'd been sucked into the horrible reality that is human trafficking.
"It's obvious when you meet Raquel that she just simply loves all people, and makes total sense that she would have a project like little by little," said friend and fellow dancer Caroline Badot. "I think it's such an awesome cause and so great that Raquel is doing it all by herself."
Badot got to know her friend Wallace through competition at dance conventions, as well as dancing together for a bit when the two were around 11 years old. She goes on to reminisce all their fun filled days of dance together and how, like Wallace's dance career, their friendship grew into what it is today. Badot claims that she's never met someone as dedicated to their career or has gone to greater lengths in order to improve and develop as a person and dancer.
"She is really motivated to be the best she can be and even spends some weekends traveling to different parts of the country in order to train. I don't think I've ever seen her go more than five minutes without dancing. It is so clear that this is what she was born to and loves to do," said Badot.
Before attending BHS, Wallace was homeschooled in order to maintain her career. She'd strategically spread out her days so that certain subjects were done altogether in one day. For example, Wallace would work on history for four hours one day, go a day or two without homeschooling, and take on a whole other subject another day. This in comparison to an early, bustling, six hour day in high school presented a l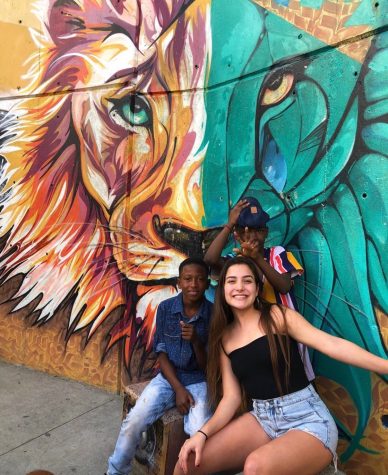 ot of stress for Wallace and made getting settled into her environment difficult.
"There was a time when I would dance 30 hours a week," said Wallace, "But now, it's about 15 hours a week so it's practically been split in half."
Wallace now spends her time dancing mainly in Fall River with her company Artistic Dance Studio. She's able to keep up with school by completing homework during her commute, or taking time in between classes in rooms within the studio designated for dancers to do school work.