Promposal Contest 2019
Hang on for a minute...we're trying to find some more stories you might like.

Emma Wannie and Cam Holloway
My boyfriend promposed to me by recreating the scene from the Office where Michael proposes to Holly. In the episode, the staff of Dunder Mifflin line up to create a path for Holly to follow leading her into the next room filled with candles where Michael gets down on one knee take takes out a ring.  As Holly passes by each employee they ask "Holly will you marry me?"  while all holding a candle. She makes it down the line rejecting everyone then walks into the next room where Michael proposes. Cam lined up a ton of my friends in the backstage shop of the PAC, where I spend a lot of my time, all holding carnations to create a path leading up to him. As I walked by they each asked "Emma, will you go to prom with me?" And handed me their flower. At the end was Cam holding a bouquet of roses and a cupcake that has "prom?" Written on it. He asked me to go to prom with him and of course I said yes. He also created a poster spelling out "prom" made out of pictures of us. There was also a very elaborate scheme to keep me after school so I didn't see them before hand.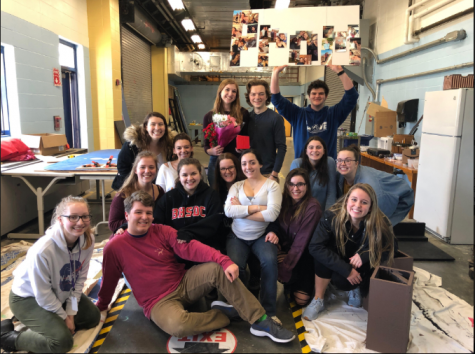 Matthew Fredo and Maggie Peterson
Before I took Maggie out to eat I told her we could try to catch the end of the sunset but as I went to pick her up all of the lights blew out. Someone who was at the beach, and had watched us set up, offered to run to the store and buy tea lights so I had to distract her for an extra 20 minutes after the sun had set at the opposite side of the beach. After that, we pulled up to the sand and she had no idea.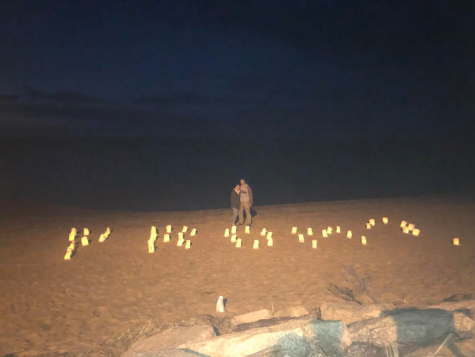 Lindsay Massarsky and Brianna Greenan
Lindsay found a famous internet photo online that she thought was hilarious. she decided to recreate it to prom pose to her friend Brianna. She dressed as a chicken nugget and bought 100 chicken nuggets from Burger King and set up in her physics class. Brianna walked in while "Baby I'm Yours" was playing in the background.
Sam Pereira and Kyle McMullin
Sam Pereira surprised Kyle McMullin right before his Opening session candidate speech during the parade of chapters in front of 4 thousand people! Kyle was told to go on stage to help by Mr Jansen and he got to the stage just in time and couldn't believe how much applause was generated by the audience. Kyle found out that Sam was Prom-posing! Kyle said "YES" as Barnstable DECA's Co-presidents, Emma Barrett and Dylan Jones were with her supporting the two with a huge banner saying "Kyle, Make me smile, Prom?" Sam truly took a lot of time and thought into surprising Kyle and once he found out, he was motivated to give his speech, meet a ton of new people, and help spread the word "I'll make it worth your while, vote for KYLE!" Sam sure made it worth his while and Kyle couldn't thank her enough.
Colby Phillips and Jordan Corbett
I went to Jordan's dance studio and since she loves sharks I had each girl in their senior company hold up a sign reading out "It would be JAWsome if you went to prom with me".  I played the Jaws music over the speakers and dressed up in a shark costume with a flower in my mouth.