Ellis Says #Enough
Hang on for a minute...we're trying to find some more stories you might like.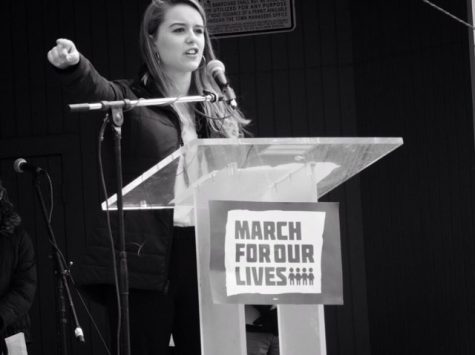 Senior Colleen Ellis is known for her efforts in many different clubs here at Barnstable, but she has often been recognized as the face behind the Barnstable Enough movement, which advocates for gun safety and safer schools. Ellis started the movement, along with fellow members of the new Cape Cod Student Board, after the unfortunate Stoneman Douglas High School shooting in Parkland, Florida that killed 17 people last February.
"We realized that there was a lack of solidarity among our generation and we couldn't bear the silence any longer," said Nora Canaday; a former member of the Cape Cod Student Board and recent Barnstable graduate.
Ellis was particularly frustrated with the lack of discussion in our community surrounding school shootings and decided to start the conversation with students by using social media.
"I started the @barnstable.enough instagram account because we needed a better way to communicate with students and I wanted to show that this isn't my movement, this is our movement," said Ellis.
Ellis has always wanted to use her voice to inspire others, so she became involved in many political conferences and was recently invited to the Massachusetts Association of School Committees joint conference where she spoke of the movement.
"At first I thought it was going to be hard, but adults nowadays respect the heck out of kids who want to speak out and it's the best feeling in the world," said Ellis.
On top of that, she is a student representative for the school committee and is also an intern at State Senator Julian Cyr's office where she strives toward getting the youth voice heard.
"She has great initiative," said Mrs. Eastman, internship coordinator for Barnstable High, "Senator Cyr introduced her to the person making the decisions about the interns and, I believe, she was offered the position on the spot,"
In March, The Cape Cod Student Board was recognized with the Democrat of the Year award by Congressman Bill Keating for their efforts in organizing the incredibly successful March for our Lives in Hyannis. People of all ages attended, but a large population were students from across the Cape, so Ellis took the opportunity to speak up.
"This is the generation of fighters. I am proud that although given the circumstances of the world we live in today, I am able to see so much empowerment reflected in my peers across the district, county, state, and nation," said Ellis during her powerful speech at the march.
"Students who are shot dead are shot dead. They don't get to go to football games or prom, some don't even have their first kiss. I fight and march for them. I use my voice because they don't have one anymore," said Ellis.
Gun control affects everybody from students, teachers, to parents. It's a worldwide conversation.
"The conversation about gun control starts with us; the youth. Start simple. Start with a conversation with your friend and inform yourself of other opinions. Then keep going from there," said Ellis.