Gender Neutral Bathrooms at Sandwich High
Hang on for a minute...we're trying to find some more stories you might like.

Dr. Ellin Booras, principal at our neighbor Sandwich High School, made the decision to incorporate gender-neutral bathrooms into the school after an administrator's training retreat late this summer.
The training was conducted by Jason Wheeler, the manager of the Safe Schools program. He discussed ways people can be more aware of the differences between people's gender-identity and what their assigned gender may be. He also spoke of the statistics of suicide, homelessness, crime, and depression rates among teens: in almost every category LGBTQ teens were at a higher percentage. Booras, so moved by Wheeler's words, invited him to speak to the staff at SHS and proposed the idea for gender-neutral bathrooms to her faculty, and then to the Superintendent; from all she received a resounding "yes." Booras said that "everyone needs and deserves the dignity of gender-awareness."
There are around 10 gender-neutral bathrooms throughout the school, each placed right next to or around the corner from the gender-assigned bathrooms. Each is a one-stall room that used to be a staff bathroom and is now signed "All-Gender Restroom."
Booras didn't feel the need to sensationalize the change, but she also didn't see the point in hiding it either.
In a way to celebrate the new change, students have held kindness walks around the track, with signs to show support for their peers. These walks didn't just support the LGBTQ community but also people with special needs, and other minority demographics. The kindness walks helped to make students aware of social differences. Booras found it important to emphasize this because of the lack of diversity in her smaller school.
The change didn't come without any obstacles. Some questions arose from the P.E.  and Athletic Department at SHS about how they would handle gender-neutral changing rooms, or if they would be necessary.They decided to not have gender-inclusive changing rooms because of the large age gap in the school that houses grades seven-12. So, instead, students will be allowed to change in the nearby gender-neutral bathrooms, if need-be. These bathrooms would also be helpful to body-conscious students who would prefer a private space to change as opposed to the communal changing area.
According to Booras, the school received no push-back from the student body or parents. She took the approach of not taking anything away from anyone; "abundance over loss" was her policy for maintaining the peace. Gender-neutral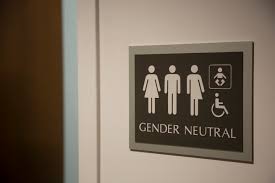 bathrooms were only added; no student gender-assigned bathrooms were converted to gender-neutral.
SHS senior Nick Pannoni has supported Booras' decision but doesn't necessarily agree that there's been no backlash. "I feel as if it is a great addition to the school as we continually move towards a more progressive future. Unfortunately, there are some students that don't respect, or agree with the ideals of others, and tend to mock the whole idea regarding the bathroom."  SHS senior Brendan Murphy said that "neutral bathrooms are one of the only smart things SHS has ever done." Murphy continued to explain why it has had such a positive impact on the school. "I would never want to see a guy or a girl go to the nurse or somewhere secretive and use their bathroom because they're unsure about their gender or sexuality."  Murphy included that he and the majority of his friends are in support of the addition but there are some who aren't as willing to accept it. According to Murphy "The only people that do care hate change and hate love."
Students at Barnstable High seem to agree that gender-neutral bathrooms would do more help than harm. BHS senior Sydney Crook approves of the change at Sandwich and hopes BHS will do the same.
Crook said "Society is changing; more and more people are beginning to understand that gender is a spectrum, so, the more we adapt and adjust to each others' differences the more we can embrace them. The school should start changing alongside gender norms today."
Even the more hesitant towards the idea of a gender spectrum have a hard time seeing the downside. BHS senior Kevin Conduris said "If there's a lot of people that think they're gender-neutral then they could use it; I'll still use the men's room. It won't bother me."
Crook and Conduris aren't the only ones who can see the benefit from all-inclusive bathrooms. Eighth graders Olivia Rodrick, Madaline Lapire and Kaleigh Washington collectively support the idea. Lapire's only reservation was cost (if new bathrooms needed to be installed). But, if Barnstable were to follow in the footsteps of SHS then the only change would be changing the signs on the staff bathrooms to gender-neutral, and open them to students.
Some of the staff at BHS love the idea of having gender-neutral bathrooms but are reluctant to give up staff bathrooms altogether. Joe Nystrom, math teacher at BHS, said "student and faculty should not share bathrooms. But, if they were only to replace a few faculty bathrooms, then it would be a great way to make everyone comfortable at school." Nystrom added that if BHS were to switch to overall gender-neutral bathrooms it would cause more problems than it would solve. Michele Netto, English teacher at BHS, also showed her support. " As long as there's still other options then why shouldn't we provide comfort for all?"
Assistant Principal Scott Pyy stated that "there have not been any requests from students or families for gender-neutral facilities, to my knowledge." There has been legislation assigned to all schools that schools must take action to make all students feel safe. Since there has not been a pressing need for these facilities at BHS, though, no action has been taken.
"If there were a request, then it would be dealt with seriously, and with dignity" said Pyy.