A Discussion about Concussions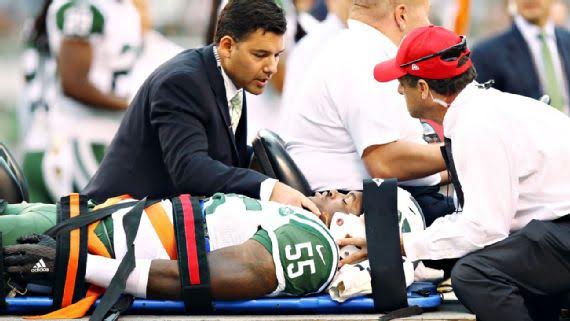 Hang on for a minute...we're trying to find some more stories you might like.

In the first week of the NFL season, Lorenzo Mauldin, New York Jets linebacker, became collateral damage to the aggressive nature of football during an attempted fumble in the Jets' first game of the season. During the fourth quarter in a game against the Cleveland Browns,  Mauldin and Muhammed Wilkerson, Jets' defensive end, rushed towards Johnny Manziel, quarterback for the Cleveland Browns, in hopes of causing a fumble. Unfortunately, the maneuver resulted in Mauldin becoming the bottom layer of a messy pig-pile. The linebacker stood up, only to immediately crumble back down onto the turf, where he remained face down.
Trainers and medical staff stormed the field with looks of dread and concern apparent on their faces. The stadium, which, just a couple minutes prior was roaring with bloodthirsty echoes of encouragement, fell deathly silent. Players down on one knee, with helmets clutched in one hand as signs of respect, littered the field as the moments turned into minutes and Mauldin remained down. Medics rushed out with a spinal board to strap Mauldin in and rushed him immediately to the hospital.
The game continued and four plays later, Chris Ivory sealed the 31-10 victory for the Jets. Mauldin remained in the hospital and didn't wake up until the following morning, completely unaware of what had occurred. He suffered a concussion, received the necessary treatment, followed the new NFL-regulated protocol, and is now back in the game.
Watching 200-lb, beastly men repeatedly pound into each other, causing hit after hit, collision after collision, has become an integral part of the sport and is now viewed as mainly part of the game. Instances like Mauldin's are rare and the majority of the tackles in the sport don't result in hospital stays and short-term memory loss. But in any other context besides a stadium echoing with jeering cries from spectators, aggression of this magnitude would warrant punishment. And as the research continues, concussions are proving to grant specific and tragic retributions of their own, separate from any law or jail sentence.
The correlation between football players who received concussions in their careers, and tragic instances, such as depression, personality changes, and language impairment, that occur later in their lives, create an unignorable significance.
Dr. Bennet Omalu, from the University of Pittsburgh, is credited with the discovery of Chronic Traumatic Encephalopathy, a degenerative brain disorder that arises after repeated head trauma. The symptoms often get misdiagnosed as early-onset dementia but after Omalu's autopsies in the brains of former NFL players such as Andre Waters, Mike Webster, and Tom McHale, CTE began to make a name for itself in the world of degenerative diseases. In a recent study done at the Department of Veterans Affairs and Boston University, researchers discovered CTE, in 96 percent of NFL players that they've studied and in 79 percent of all football players. The movie Concussion, opening on December 25, tells the tale of Omalu's discovery and battle against the NFL to make the dangerous effects known.
Junior Seau, former linebacker for the New England Patriots and member of the Pro Football Hall of Fame, committed suicide in 2012. After his brain was studied, it was revealed that Seau suffered from CTE. It's speculated to have been the sole cause of his suicide.
So far, there have been 108 reported concussions in the NFL in 2015. And these injuries don't solely occur on the NFL gridiron. At BHS, 35 students have been diagnosed with concussions during school-sponsored events in 2015 alone.
Jack Pipatti, a senior captain of the football and lacrosse teams, knows all too well about the aggressive nature of contact sports, as he has received three concussions over the past 14 months, all via football. Pipatti does not recall the injury that occurred last season and eight hours of that day are still missing from his memory. "My first one this year was when I tackled someone and hit helmet to helmet with him," Pipatti said. "And my most recent happened when I tackled someone and was kneed in the side of the head." Pipatti was out for three weeks after every instance.
Despite the chances of harm, he still loves the sport and he believes his injuries won't affect his lacrosse season."I love the fast-pace and physicality of both. I like having a team that I can rely on to be there for me, but also push me to play my best," Pipatti said. "The camaraderie in both sports is unlike anything else."
Pam Ciborowski, Nursing and Wellness Coordinator of Barnstable Public Schools, notes that these head injuries don't solely occur in contact sports. "They may be caused by a bump, blow, or jolt to the head or by a blow to another part of the body with the force transmitted to the head," Ciborowski said. "All concussions are potentially serious and may result in complications including prolonged brain damage and death if not recognized and managed properly."
Rianna Dawson, a senior at BHS and captain of the cheerleading team, received one so severe during practice that it took her out of commission for three weeks. "I was standing there when one girl, who was doing a tumbling pass, came towards me and her ankle bone hit the back of my head," Dawson said.
"I had to stay in a dark room and sleep for about six days. But it got better every day," Dawson added. Unfortunately, the injury was bad enough to cause her to sit on the sidelines and miss out on the team's last tournament. "Since I'm a senior, it was not only the last tournament of the season, but also my last one ever, so I was heartbroken."
And while it was upsetting that Dawson missed out on her final tournament, she had to follow the rules. "The BPS protocol reviews symptoms, educational information for students, families, staff, reporting a head injury, school accommodations, guidelines for returning to play and academics," Cibororwski stated.
These regulations do prevent the trauma from progressing but regardless, damage is still being done. The NFL's concussion protocol contains five steps in order for players to head back in the game but sometimes, these steps are rushed, or even outright ignored. One of the more recent controversies involving Case Keenum, St. Louis Rams' quarterback, has infuriated many with the blatant disregard for protocol. In a game against the Baltimore Ravens, Keenum was knocked down to the ground, clearly in distress, and struggled to get up after being yanked up by fellow player, Garrett Reynolds. He then went on to keep playing. After an investigation, the St. Louis Rams will not be penalized for keeping Keenum in the game.
Although familiar with the dangerous effects of contact sports, Pipatti stated he would do it all again because of the impact team sports had on him. "I learned so many things about confidence, persistence and teamwork throughout the years. If my injuries were more extreme, I may have said I wouldn't," Pipatti said. "I'm blessed to say that my injuries haven't been too severe, because many people have suffered much worse."
No matter the compelling force to these intense sports, the risks are still high for head traumas with lasting effects. Dawson, who has recovered and is feeling much better, advises those who sustain concussions repeatedly to think clearly about the damage caused to their brains. "To the people who get them over and over again–just get out. Don't push it because it is not worth it."