All About Abby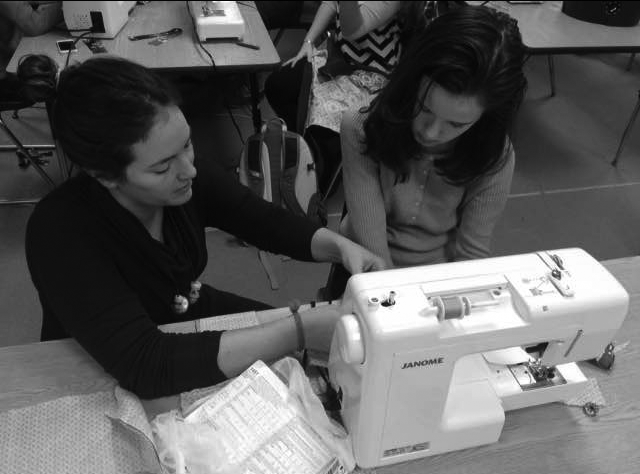 Hang on for a minute...we're trying to find some more stories you might like.

From her enticing art and eye-catching fashion choices to her sassy personality, Abby Fay has quickly become one of Barnstable High School's favorite teachers.
Fay has been an artist her whole life. Ever since she was a little girl, she has been "inspired by her father" and recollects "asking for pencil stencils and art supplies" during the holidays or on her birthday.
Fay teaches AP Art History and Fashion Design. She especially enjoys AP Art History. APAH has been offered at Barnstable for four years, ever since her first-year students signed a petition to add it to the course list.
"I want more students to know about APAH and all that it has to offer," she said. "It's a mix of both art and history; students just need to have an appreciation for art."
Fay is creative in and outside of the halls of Barnstable. She rents an art studio near Route 6A where she lets her creative juices flow. She showcases her artwork to the public two times a year. "Sometimes I can get too sucked into my career. Having a studio keeps me motivated," said Fay.
In her artwork, she tries "to capture a fleeting moment, a memory, a place, a person," she said. Fay noted that she is inspired by "scroll paintings and 20th Century figure painters. My marks are at times delicate and smooth and at other times dark and aggressive," she added. Fay feels that her works represent her "physical response" to her changing environment.
As a teacher of fashion, she loves wearing "textures and contrasting colors." But Fay believes "fashion is not always about color."
As of right now, Fay is very much into the muumuu trend, which consists of long, loose clothing that hangs free from the shoulders. "I like to be comfortable because I am always moving," said Fay. She also added, "I'm very clumsy; I don't like to wear heels because I'll trip over everything."
Senior Colleen Doherty has been Fay's student for four years now. This year, Doherty has an independent study with Fay and takes APAH. Doherty said "Fay is awesome. She is always willing to help her students if they don't understand something." Doherty has learned a lot from Fay. "She taught me I can make an entire garment by myself and helped me make work I am proud of," said Doherty.
Not only does Fay help students create and appreciate art, but she also offers Gentle Yoga for teens after school. Fay is a certified Vinyasa instructor (a type of yoga that links breath to movement).
"I don't think it is fair for students to pay $17 for one yoga class. I think yoga should be accessible to everyone," said Fay.
      Senior Maggie McNulty agrees. McNulty has attended Fay's yoga class and said Fay "is very accepting of students at all levels of yoga and she makes everyone feel comfortable."
Fay is not only appreciative of her students, but also the staff here at BHS. "I love the staff here. There is a lot more to the staff than what's at the surface," said Fay. She said that "they're all great at their job and very hardworking."
Fay is "deeply passionate" about what she does and cares so much about each and every project she dives into, whether it be teaching, creating, or inspiring.