Play Bill(ard)
Hang on for a minute...we're trying to find some more stories you might like.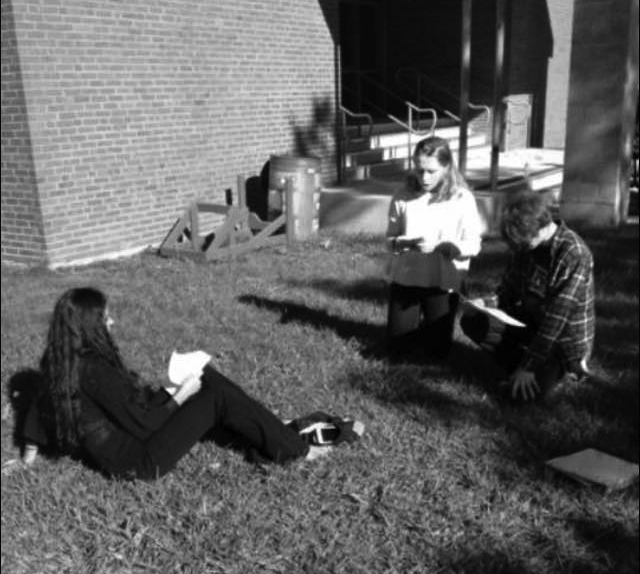 Walking down the 1200s hallway at 1:55 p.m. is like navigating through a complicated (and very loud) maze. While elbowing through the crowded hall surrounded by excited chattering, slamming lockers, and that one kid who has to bump into everyone in sight, solitude and quiet might seem like a foreign concept. But, just a few feet away from this chaos lies a small haven of peace and throwback '70s disco music: room 1217, Mr. Billard's room.
A dedicated English teacher at BHS since 1992, actor on the stage since 1977, and a seasoned director for 25 years, you could say Jeffrey Billard knows his stuff. He first graced the stage at BHS in 1994, and was assistant director to John Sullivan from 1994-2000 when he left to obtain his Master's degree and direct with other acting companies. Taking over from previous drama club advisor of 5 years, Ed O'Toole, Billard says that O'Toole was nothing but fantastic helping him with the transition.
"Mr. O'Toole did a phenomenal job as advisor and left the drama club in fabulous shape, so I was lucky enough to inherit it in top shape. I knew that Mr. O'Toole was retiring a year in advance, and having him there to answer any questions I had about being advisor was incredibly helpful. O'Toole could not have been more gracious and helpful with the transition." said Billard.
Billard has big plans for this upcoming season of the drama club: a revamped Haunted House directed by Special Education Teacher and Drama Club Assistant Mr. Chris Viens in October, "Almost, Maine" in December, "Godspell" as the March musical, and "Twelfth Night" for the spring Shakespeare show. The Haunted House will feature an all new concept, one that is much different than the "blood, guts, and screams" haunted house BHS has known in the past. Viens says, "We've tapped into the talented group of writers we have and produced something that is more like a 5-10 minute play than a blood and guts screamfest. I think that it showcases our actors and our writers excellently."
"Almost, Maine." a "modern, poignant, funny and bittersweet production" in Billard's words features nine short "love and loss" stories that all take place at the same time on the same day and in the fictional town of Almost Maine. Says President of BHSDC Senior Saàrah Murphy, "Almost, Maine conveys all the bittersweet aspects of life that a person could go through. We have a killer cast who is willing to work hard to make this play fabulous."
"Godspell," the iconic breakthrough musical first performed in 1970, is a big change from the drama club's usual repertoire as well.
"Godspell has been on my radar for quite a few years and Mr. Caldwell and I both decided this would be the perfect year to do it. It's a musical about community and love and those are topics we wanted to explore, plus it's an incredible show with amazing music, songs, and dancing, stuff that really captures the imagination. There will be a live rock band right on stage, and it will be a exciting production to take on." says Billard. Literary Associate of BHSDC Junior Maeve Moriarty says, "I'm excited for Godspell because it's a show for everyone, not just religious people. The audience will really involved and a part of the fun."
Following the musical, William Shakespeare's "Twelfth Night" will be the spring production and it will be like, totally excellent, dude. "Since Twelfth Night takes place near water, I thought it would be interesting to do a '60s surf theme. We'd feature original music that would incorporate Beach Boys type harmonies. Think bathing suits and surfboards." quotes Billard. Co-Costume Lead Carolyn Nash says, "I'm thrilled to do a beach theme for Twelfth Night because we've never done something quite like that before, and I think that it will present a fun and unique costuming experience."
And of course the second annual student written/directed/costumed/painted/propped "Ten Minute Play Festival" will follow the Shakespeare play and showcase the drama club's extensive collection of talented writer, directors, and actors. Says Co-Vice President of BHSDC Selby Tindall, "The Ten Minute Play Festival is a unique experience where students really get to be creative and have control over the whole process of writing and putting on a play, and students learn so much from Mr Billard."
The Haunted House will run October 21-24, 29, 30, doors open at 6 p.m. and tickets $10. Almost, Maine will run December 10-12 and 17-19, doors open at 7 p.m. and tickets $10. Godspell runs March 18-20, 25 and 26, doors open at 7 p.m. and tickets $10. Twelfth Night runs May 12-14, 18-21, doors open at 7 p.m. and tickets $10. And the Ten Minute Play Festival runs June 9-11, doors opening at 7 p.m. and tickets $10.