Girl Power
Senior Girls take on Advanced Weight Training
Hang on for a minute...we're trying to find some more stories you might like.

"Okay, 20 reps, 150 pounds, you can do this." Looking around and smiling, seniors Cate Harrington, Nicole Derosier, and Cassandra Kornhiser moved on to the next station without breaking a sweat.
Who said girls can't do weight training? That's just the thought seniors Harrington, Derosier and Kornhiser had when planning their senior schedule. A popular senior wellness class for senior girls has always been Social Issues so it has been tough to break through the masculine-heavy weight training or fitness. However, for these three girls, steering away from the traditional route has brought them a sense of confidence, excitement and literal strength in Advanced Weight Training.
Being approved to take Advanced Weight Training took a little work. According to Kornhiser, the girls had to convince both main guidance and teacher Chris Whidden to let them take the class. After a couple of months of proving they were serious about the class, they were in. "It was worth the fight," said Kornhiser.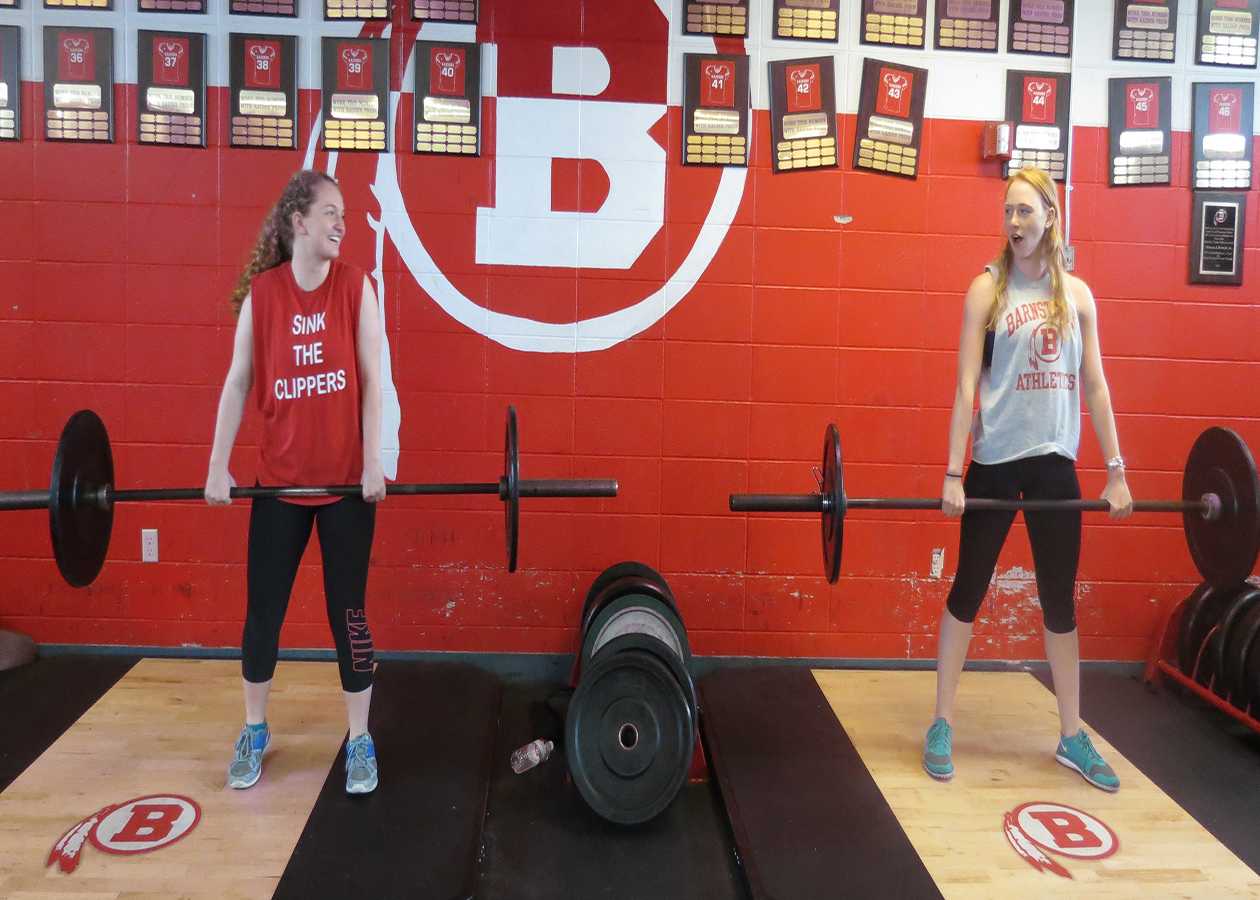 Kornhiser, who was against taking Social Issues, wanted to take a personal development class that would actually "develop" her physically. All the girls agree it is a great break from a day of traditional and academically challenging classes.
While Kornhiser and Harrington had their eyes set on Advanced Weight Training from the beginning, Derosier initially was pushing to create a senior gym class. "I thought it would be awesome and a great way for seniors to bond," said Derosier. Her idea never passed, so she decided to take this class instead. "I could barely do a pushup and wanted to get stronger," she commented.
Whidden has been teaching weight training classes for five years. While it is not the first time he has ever taught a girl, it is the first time he has had girls in his advanced class, and also the first time he has had three girls together. "I wasn't nervous to have them," said Whidden, "Everyone, male or female, has the same expectations." Whidden enjoys the challenge that teaching the girls has brought. He is not just training the stereotypical weight lifter, and modifies exercises to everyone's specific needs. "I don't teach to the gender, I teach to the specific needs of students."
Fellow senior Jonathan Rezendes was not expecting girls to be in his weight training class, but did not think it was a big deal. "I know a lot of females are big on weight training," said Rezendes. "I like having them in the class because not only is it a new thing but they're hard workers and add to the competition." Rezendes commented that the girls work hard to fit the mold and keep up with the male-dominated class.
Kornhiser, Harrington, and Derosier have come a long way since the beginning of the school year. "I used to be intimidated by how much the boys could lift, but they are really supportive of us," said Harrington. Not only do they act as gentleman by assisting the girls in setting up their weight racks, but, according to Harrington, they are always encouraging them "to do one more rep, or add a little bit more weight."
All three recommend the class to any girl who is serious about working out, as they are in the weight room almost every day. "It's a great opportunity to stay in shape," said Derosier. "I have learned all different ways to workout which I now use on my own time." Derosier feels strongly that this is the best class to take for a personal development credit. "This class has been the highlight of my high school experience," said Kornhiser.