Nikki and the Barn Boys: Local Upcoming Album
A group of local young adults who started out as teens in their friend's basement in Barnstable are now making their own album. Nikki and the Barn Boys is a local band that has won the hearts of many people around Cape Cod and the Islands. They have been working on a new album for over a year that will be released soon.
The origin of the band goes back to the spring of 2020 when three of the boys Thomas and John Bresette, who are twin brothers, and Liam Hempstead sat on the same bus in elementary school, where they became best friends. Liam's older brother, Graham Hempstead, was then hired by Thomas' mother to teach him guitar. At this time Graham was doing solo gigs already and was still pretty young while Thomas was picking up the guitar fast and realized he loved it. Around this same time Liam was learning the drums and it wasn't long after that the three of them were jamming out together. Shortly after John wanted to be in on this and started to learn the bass. 
"The musical chemistry between us was off the charts and "The Barn Boys" was formed," said Graham.
They did gigs as just a four piece for a while before they were introduced to Nikki Childs, who is now their lead singer and the only girl in the band. Childs, who graduated from Mashpee High school, came over to the Hempstead's house one day for a jam session and they clicked almost immediately. After that they were "Nikki and The Barn Boys," Childs blew them away with her voice and personality and it's what has made them stick together all four boys stated. Childs has been in the band for about a year now and she was even featured on their song "Thunder". After that first song they knew they wanted to do an album with the Cape-based Safe Harbor Records, and decided to get all their own music out there. Their album has 10 original songs on it from each member. 
"Most of our inspiration for our songs came from us and our personal experiences," said Thomas. "We wrote in tandem with each other and took inspiration from each other's emotions."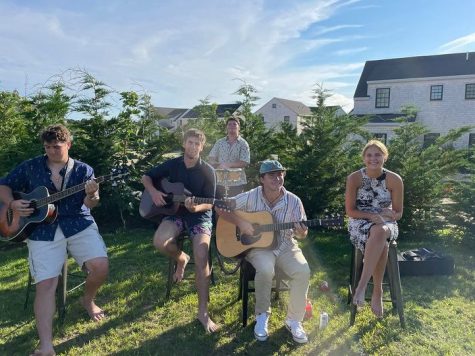 The band does its own promotion and one of its biggest supporters is Isabelle Bresette, the older sister of the twins, and band manager. She does all of their management and bookings for gigs. Isabelle also runs all their social media accounts. She said how she has so much faith in these boys and is very confident that their music will take them places, and their families are also big supporters of them."You can always count on them to be at every show" said Isabelle.
The Barn Boys have had constant gigs all over the Cape and the Islands They perform at the Chatham Squire, The Wellfleet Pearl, Cape Cod Beer, and The Jailhouse Jam. They have now moved on to the Boston scene and are trying to get gigs up there, said Isabelle. Stay tuned for their album that will be coming out soon and go listen to the first single off the album "Indigo" which is out now.