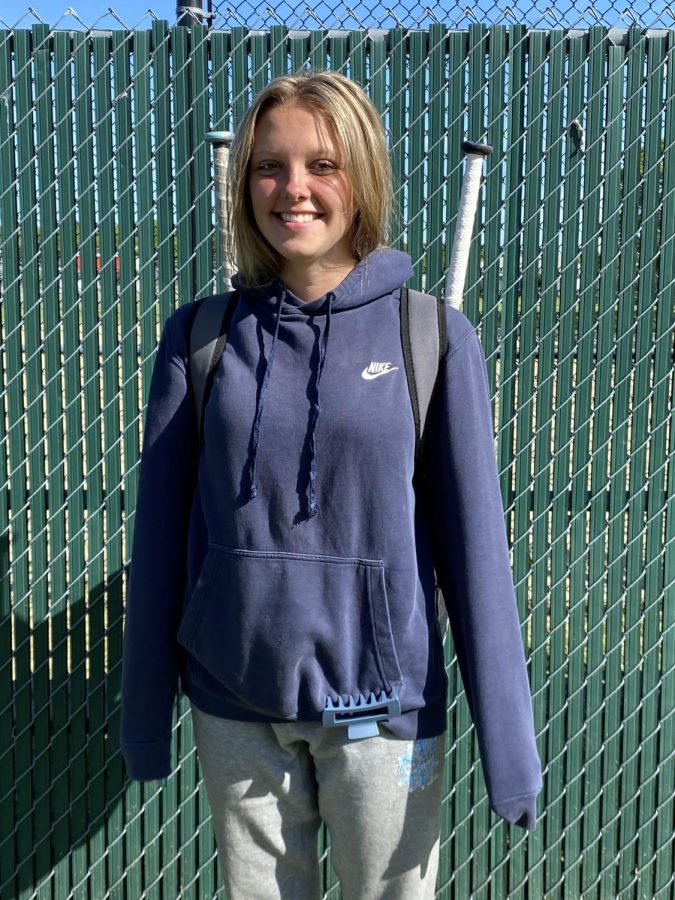 Alyssa Depasqua
Senior Rileigh Nickulas, a dedicated softball player, continues to deliver from center field. Having started in eighth grade, Nickulas said she started playing softball because a lot of her friends were and the fun of it roped her in. "I honestly didn't think I would end up loving it as much as I do," said Nickulas.
Though having played first base and left field, Nickulas found her home in center field. "I tried the infield and really didn't like it so then I tried outfield and realized I loved it, " said Nickulas. "I love the feeling of catching huge pop flies, running as fast as you can and making a huge catch is so exhilarating."
Given the title of captain this season, Nickulas said "I feel really honored to be a captain. When I was younger I looked up to the captains so much and it feels really special to be able to be the team's role model." 
Head coach Julia Ryan said that she has always loved the way Nickulas plays. "When I first started coaching her, what drew my attention to her was her effort and competitiveness," Ryan said. "Rileigh plays confident and smart in the outfield and is a great hitter as well."
Ryan also said that Nickulas has the qualities of a great captain. "Rileigh is a good example of character and spirit in a player that younger teammates can look up to," Ryan said. "She has improved at becoming a leader on the field and someone the team can look to for support."
Nickulas has ultimately decided that she will not be playing softball collegiately next year. "It was always a thought in my mind that it would be fun to play softball in college, but I'm just going to focus on school," said Nickulas.
Ryan added that she has loved coaching Nickulas for the past two seasons. "What I like about coaching Rileigh is she always wants to get better and improve everyday," said Ryan. 
Having already started her senior season, Nickulas is sad to see her time with BHS softball come to an end, but is optimistic about the current season. "I'm really excited about my senior season because we didn't get the opportunity to play last year. My goal is that this season we all just have fun and hopefully win a few games," said Nickulas. "Leaving BHS softball is going to be really sad for me. I've played since eighth grade and have had amazing experiences and have made so many friends. Saying goodbye is going to be hard."