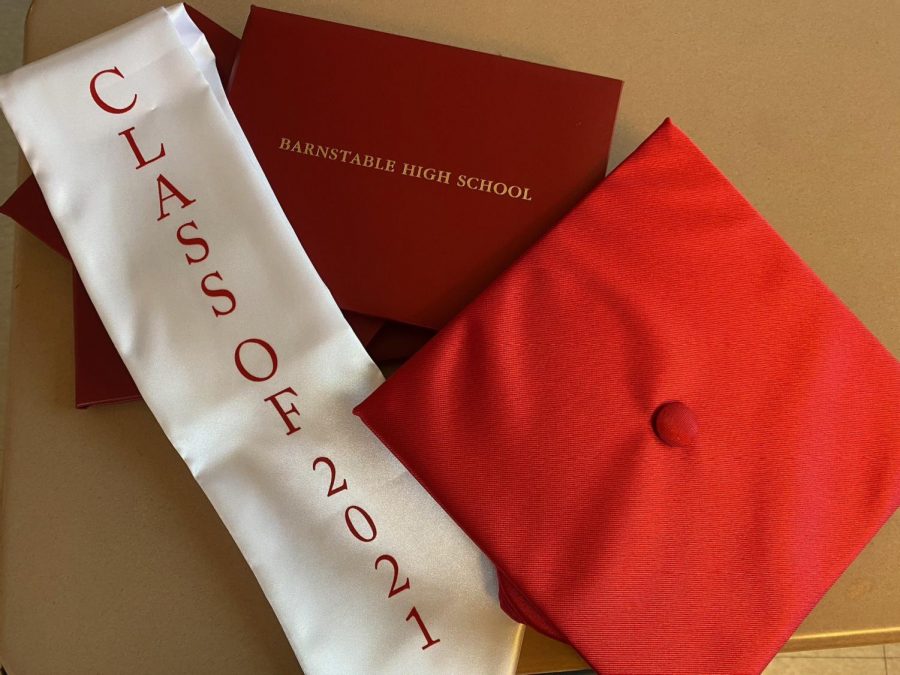 Alyssa DePasqua
After a year of unconventional events, BHS administration has been dealt the difficult task of planning a safe, functionable graduation ceremony for all graduates and their families. 
Graduation, taking place on June 12 with a rain date of June 13, will be held on the BHS track. Unlike last year's ceremony, graduates will be seated on the turf. Attendees will be seated on both the bleachers and the field. 
Faculty not being able to walk with the graduates is yet another change from past years. "Faculty would traditionally walk with graduates, but we didn't have that last year and we won't have it this year," said Administrative Assistant Ashley Bishop, who works in the operations office. "It's hard because they want to be there and we want them to be there, but the priority is the parents and family members who want to see the graduates graduate." Though faculty won't be able to walk with the graduates, they will be in attendance to help check people in and help out with the ceremony. 
Bishop added that the Administrator in charge, Kristen Harmon, will take on the principal's role at graduation. "Ms. Harmon will speak as the administrator in charge and she will largely take the principal piece on," said Bishop. 
However, only six paper tickets will be given out to graduates' families this year in order to keep a sizable crowd. Students will only be given four field tickets and two bleacher tickets for their guests. Senior Kalie Harty, who has a larger family, is sad that some of her family members won't be able to attend. "Personally I wish it was a few more," Harty said. "Coming from a family with divorced parents, my siblings can't come to watch and be there."
Though some students are disappointed, most have confidence that the school will take all necessary precautions in order to keep all attendees safe. Senior Molly Metz said "I don't have any concerns. I believe they will take all necessary precautions."
Senior Gabby Giammasi, however, has some concerns about being celebrated amid the precautions. "I'm just concerned we won't actually be celebrated due to all the precautions," said Giammasi. 
Different from last year, there will be a stage for graduates to cross. Graduates will be handed their diploma as they cross the stage, unlike last year where diplomas were already placed at graduates' seats. 
Bishop strongly encourages both parents and graduates to continuously check their emails and the BHS website for updates on events, as that is the primary form of communication. "We're really hoping that students are in the habit of checking their email and we have been posting updates on the BHS website as well," said Bishop.
This form of communication can be hard for some students. Both Giammasi and Metz said that they haven't been filled in on how the event will be taking place. "I honestly haven't even heard much about graduation. I have no clue on how they are planning on handling it," said Giammasi. "I wish the school was communicating more about what's going on."
Metz felt similarly to Giammasi, saying "I feel that they haven't really told us anything about it and how it's going to take place."
Though graduation might not be everything seniors were wishing for, both Metz and Harty are excited for graduation and thankful that they're getting one after all. "I'm glad that we do get a graduation," said Metz. "I am excited about the upcoming graduation," said Harty. 
Rehearsals for graduation will be held on Monday, June 7 and Wednesday, June 9 at 8 a.m., and Thursday, June 10 at 12 p.m. Attendance is mandatory for all students attending the event.