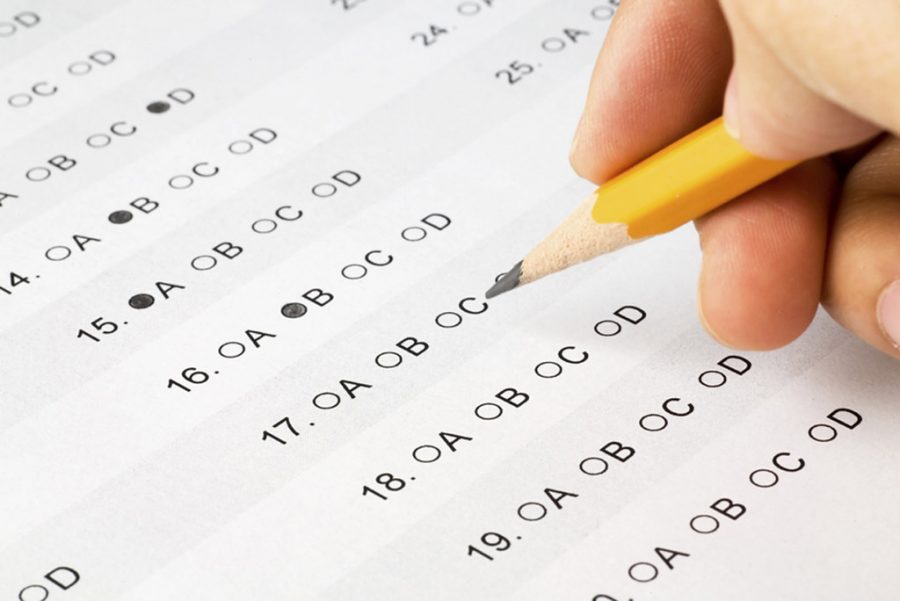 Creative Commons
Due to some miscommunication surrounding MCAS and AP testing this year, many students and teachers have been questioning how testing will proceed and when the tests will take place. Because of the pandemic, MCAS was canceled for students in grades eight through 10 last spring, as BHS went into lockdown and started remote schooling the week before MCAS was scheduled to take place. AP tests, on the other hand, went online and a shortened version was given to students to take remotely.
It is now a year later, and as the pandemic continues, many people are worried about how testing will take place this year, with so many students and such little room to do it in the school. Though MCAS and AP exams are still planned to happen, juniors are no longer required to take their MCAS from last year and AP exams are remote once again. 
Assistant Principal Scott Pyy said that there has been an "added difficulty" to scheduling the MCAS testing this year. "The scheduling is incredibly daunting to say the least," said Pyy. "It has presented a planning and logistics challenge like no other."
The state of Massachusetts has even given schools a big window to complete the MCAS testing by pushing the timeline to administer the tests until June 11, giving schools a lot of leeway and flexibility. However, there are still a lot of obstacles that remain. 
Pyy mentioned that with all of the changes happening constantly, it's hard to keep everyone updated on what's going on. "Once everything is solidified, we will be able to communicate with faculty and students, but with all of the changes and postponing from the state, it's difficult to stay in touch with everyone," said Pyy. 
On April 1, the Commissioner of Elementary and Secondary Education, Jeffrey C. Riley, recommended to the Board of Elementary and Secondary Education that they "modify the state graduation requirements for the Class of 2022", allowing current juniors to graduate without the MCAS.
English teacher Catherine Richards said that there has been uncertainty surrounding the 2021 MCAS testing. "It's been mass confusion," said Richards. "We're told one thing and then immediately told another thing." 
Not only is Richards against sophomores having to take the MCAS during a pandemic, but she is also unsure how all students will take it in-person. "I think it's nearly impossible if everyone has to take it in-person," said Richards. "When would Cohort D take it?" 
Despite the miscommunication, Richards said she has still been preparing her sophomores for the test by assigning her students a lot of reading comprehension and writing activities. "I have in mind everything they should have to do on the MCAS, but I don't teach to the test," said Richards. "I'm starting to tell them what to expect on the MCAS now that I know they're going to take it."
Sophomore Lily Pawsey said she isn't happy with having to take the MCAS this year either. "I feel frustrated with the MCAS because of everything going on this past year," said Pawsey. "We didn't really get to finish the classes last year that we need for the MCAS anyways." 
She also mentioned that she feels uninformed about the test and that there has been a lack of communication surrounding it. "I only found out this month that we are actually taking them and I still actually have no clue when we are," said Pawsey. 
Sophomore Molly Cahill agreed with Pawsey about the miscommunications aspect of the testing. She said "I think that the MCAS is not being communicated well with the starting dates and preparation," said Cahill. "I think that it'll be interesting to see how they work."
Besides the miscommunication factor, Cahill also said she feels unsafe taking the MCAS test in school with many other students. "
Pawsey is more optimistic about taking them in school because of how smoothly the PSATs went earlier this year, but she still has some doubts. "Our PSATs went well, but if we are all in school five days a week and it's double the amount of kids, then it's risky," said Pawsey.
AP Exams Online
Pyy also mentioned that all AP tests will be online this year, besides foreign language, which has an oral component. Due to MCAS and AP tests going on around the same time, Pyy said that they are trying hard not to let the two tests interfere with each other for any student taking both tests. 
"Trying to be sure that students are not taking both tests at the same time and trying not to disrupt other students' learning is a huge factor and a challenge within itself," said Pyy.
Though some seniors said they are not going to take their AP test if it is being given after graduation, senior Chiara Marini said that she will be taking all three of her exams this year. "I definitely think it's a waste if people don't take the AP tests. You've already paid for the tests so you might as well take them and possibly get college credit, saving you money in the future," said Marini. "You've already suffered through the class, you might as well just tough it out and give the tests your best shot. There's no real penalty for doing bad on these tests." 
However, she said she does understand where some senior AP students are coming from. "I definitely think it would be way better if the tests were scheduled before graduation. Many students this year don't want to take the AP tests anyways and having them be after graduation definitely further discouraged them," said Marini. 
AP U.S. History teacher Kate Scholes only has one senior student in her AP class, but she said that he plans on taking the test as well. However, she knows that many of her juniors would opt out of the test if they could. "There's definitely a sizable portion of students that would opt out given the chance," said Scholes. She also mentioned that there is only one part of the online test that is different from the paper version, unlike last year. "I'm happy that it will still maintain the integrity and will still have all of the components of the paper test," said Scholes. "I think that it will be a much more fair assessment." 
Through all of the hardships and scheduling struggles during these hectic and abnormal times, Pyy said he is grateful for what everyone has been doing as a collective group. "This year, in general, has been incredibly trying for everyone. There has been a load on everyone and everyone has been working really hard to hit the moving target, and they've all been doing a darn good job," said Pyy. "There are a lot of things that are beyond our control and everyone's doing the best that they can."